So awhile back, my new P.I.M.P. (Pinterest Implementator & Marketing Person), Ashley, sent me an email and was all like, "LET'S GO STREAKING!!!!".
She'd done a really super awesome job with The Unlost's new pinboards and all (I mean, a "You're a Freakin' Weirdo" pinboard?! HECKZ YES,GIRL!!), but still, I was a little weirded out.
"Uhm, streaking??", I choked. This new team of mine is awesome, but they're also freaking crazy, I thought to myself.
What had I gotten myself into?!
I really knew I was in trouble when visions of Frank the Tank began dancing through my head. Noooooooooo!!
I read a bit further down the page and instantly breathed a sigh of relief.
"Based on your 'Why I'm Getting Naked' post," her e-mail read, "I propose a 'Let's Get Naked' campaign…"
"Oooooh," I said. "I get it nooow."
"I'm in. Let's get naked and go streaking."
OK, so maybe it didn't happen exactly like that, but it was something pretty similar. I mean, sort of. Whatever.
And so Ashley boldly began the "Let's Get Naked" campaign, creating "Let's Get Naked" fill-ins and blazing the way for others to join in on the nekkid streaking party…
Ashley is Going Streaking ♥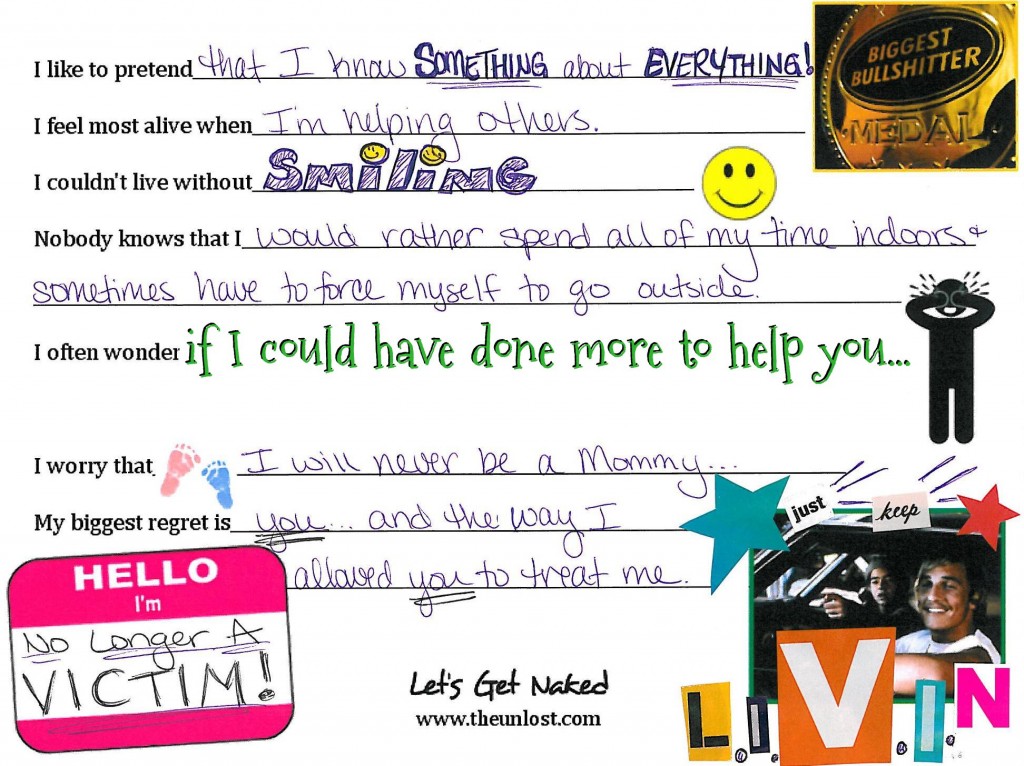 And oh, did they ever join in…
The first hoodlum I invited in was my friend Hannah over at Furtherbound, who is one amazing lady. In the last year and a half she's paid off $24K in debt and built savings of the same amount. Now she's about to travel the world indefinitely, boyfriend in tow– and along the way they also plan to get married, have babies and start a charity (NBD!).
I immediately thought of Hannah because she'd recently published a post entitled "The truth shall set you free", which ties perfectly and beautifully into our "Let's Get Naked" streaking party. Hannah's given permission for me to repost a part of her post here:
I used to feel like a swirling culmination of secrets and lies. There was the person I had been, the person I was but was too afraid to be, and the pretense of myself I displayed to others. Eventually, truth was the magic ingredient that mixed all the elements together, and there I was.
It gave me permission to fill the spaces with me, and I became full, whole.
Eleanor Roosevelt said that you should do one thing every day that scares you. I can think of no better way of acting on her sage advice than to always speak the truth. Honesty scares the shit out of me on a daily basis, but I lean into my fear and push through until I reach a place on the other side where I can make peace with it.
Telling the truth about our lives is the best contribution we can make.
- Susannah Conway
Case in point: Recently I was asked by a national British magazine to take part in an interview about my debt, and the fact that I had kept it a secret from Lee. Titled The New Cheating (ouch!), it pushed me to the very limits of my truth.
This article was published today. Holy. Shit.
Equal parts utterly humiliating and liberating, to me it feels like the final step in dealing with the shame that still lingered in the folded corners of my story.
It wasn't easy sharing my experiences in this way, but I had made a choice to be honest, and so I stuck by that. Though it isn't 100% accurate (what media interview ever is?!), I hope it might be of some help to other people in similar situations, and encourage them to face their own truths.
Authenticity is a collection of choices that we have to make every day. It's about the choice to show up and be real. The choice to be honest. The choice to let our true selves be seen.
- Brené Brown
I am letting myself be seen.
I am no saint. I am crude. I say fuck a lot, I burp when I drink beer or champagne and I always think tequila is a good idea [Therese's note: It's true; she does always think tequila is a good idea]. But I am fiercely loyal, open-hearted and generous, and if you let me into your world, I'll leave my doors wide open in return. I learn from my mistakes, and share my lessons willingly in the hope that others might find some comfort in my words.
Because we are all different, and all the same.
None of us are perfect, and that in itself is perfection to me. It is our flaws and idiosyncrasies that set us apart, and we need to learn to see the beauty in that; to share our stories and help each other move closer towards our dreams.
To quote Susannah Conway again: "The world is smaller when we tell the truth about our lives."
So let's travel it together.
Hannah is Going Streaking ♥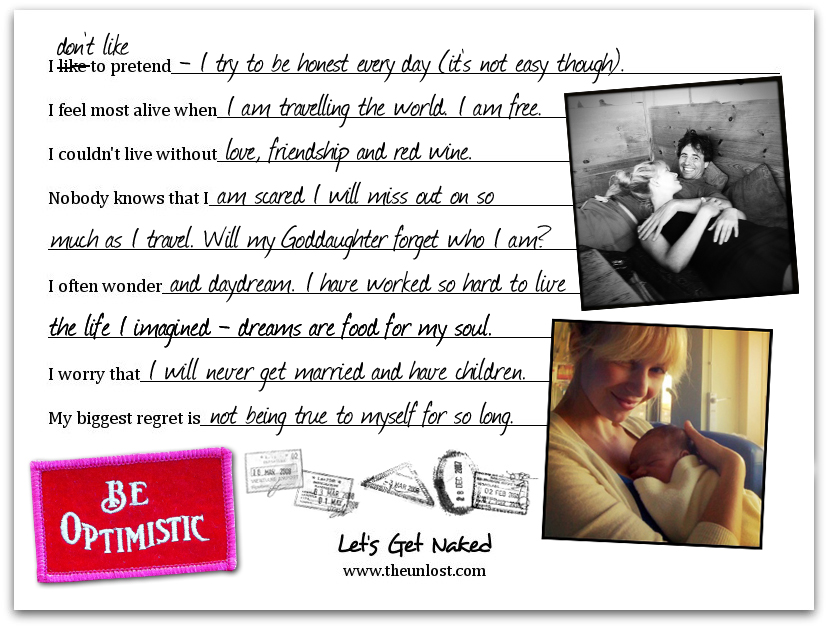 A few other people worthy of mention who've been exposing what's most real for them as of late: the amaze Jenny Blake over at Life After College, who posted "What To Do When You Feel Batsh*t Crazy" last week, and Scott Indermaur, who sent me a copy of his beautiful book, Revealed, a one-of-a-kind project uncovering what lies beneath the surface in each of us.
Guys, there's something inherently beautiful about our naked, vulnerable selves– something inherently flawless in the exposure of our flaws; a strange wholeness in our willingness to be unwhole. It is our humanity, our deep truth, our willingness to be real and raw and honest, that truly connect us, and THAT is what's beautiful.
It isn't about dwelling on the negative– it's simply about allowing ourselves to be honest, vulnerable, and naked. It's about coming to know that whether our truths are positive or negative in this moment, we are far from alone, and we are OK– we are loved throughout it all.
And so without further ado, I present to you the rest of the naked streaking party (if you wanna join in on the shenanigans, you'll get your chance at the bottom of the page ;-).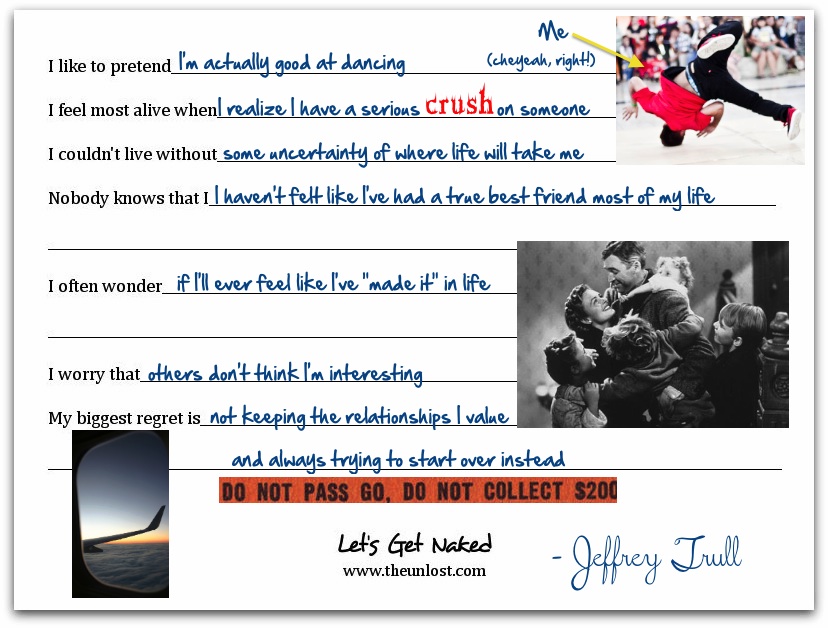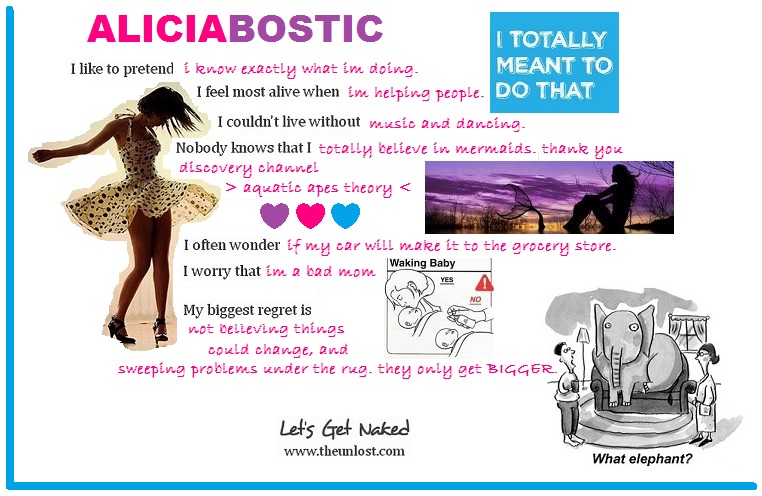 Rob is Going Streaking ♥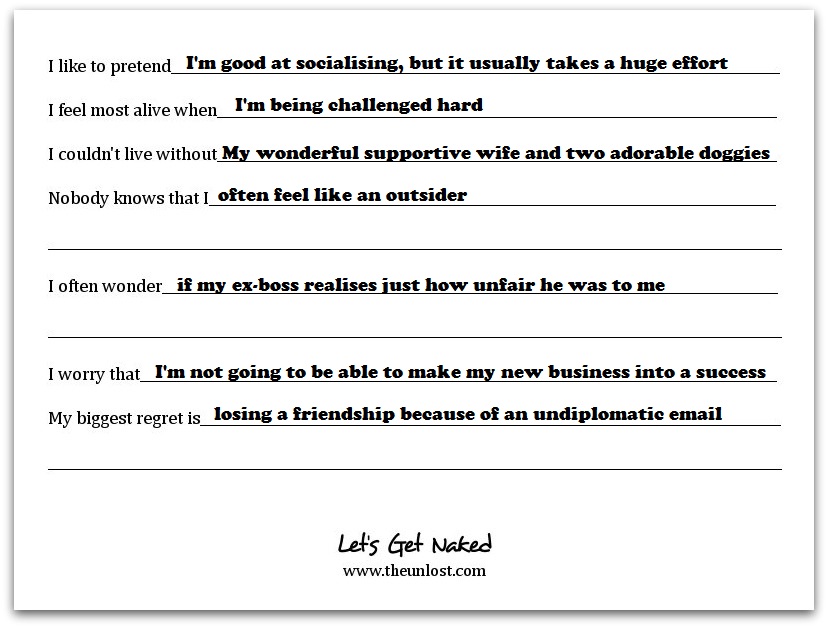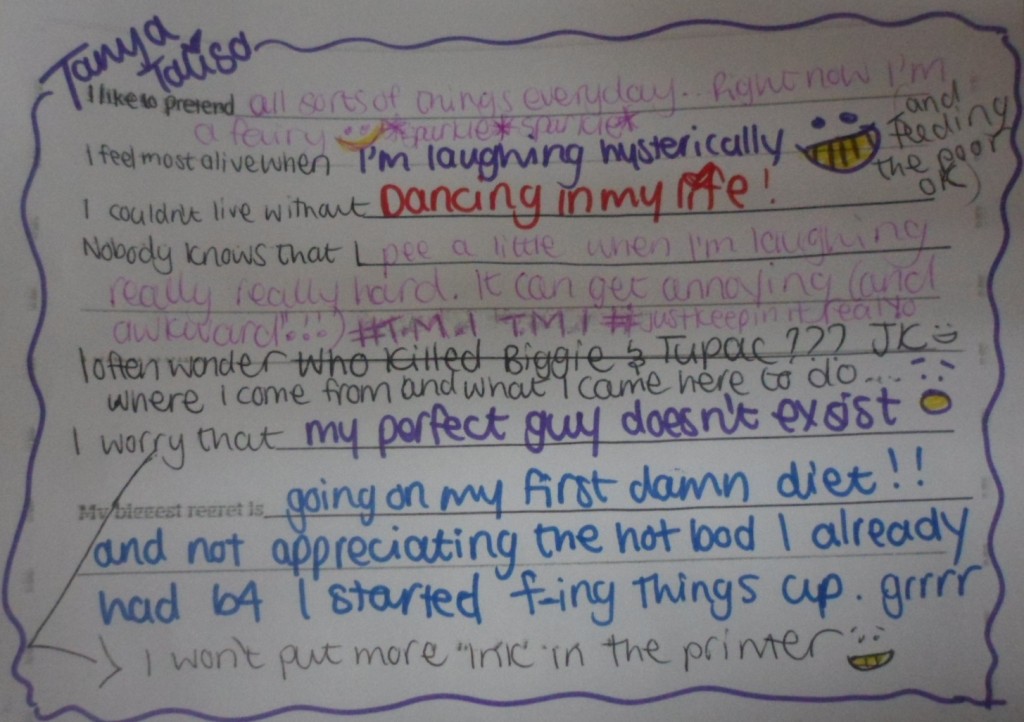 Agnes is Going Streaking ♥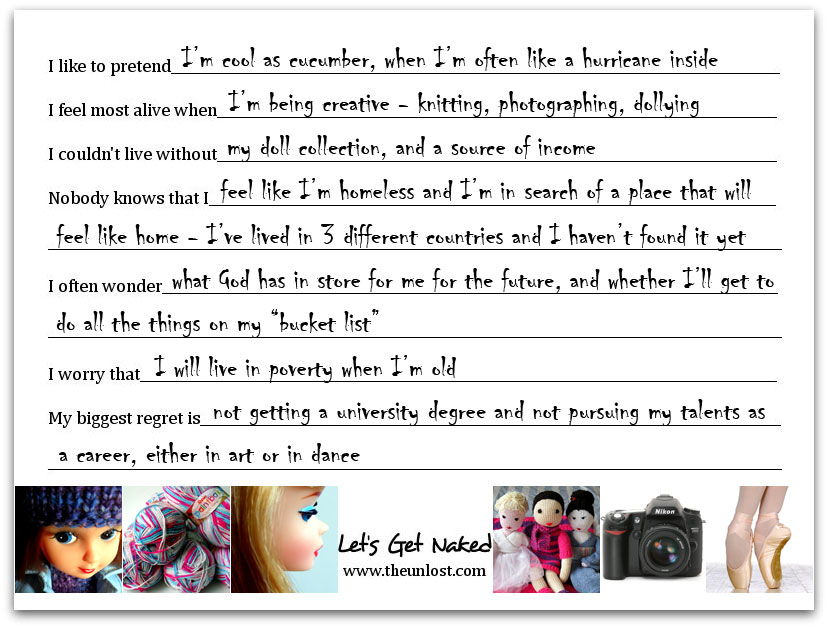 Therese is Going Streaking ♥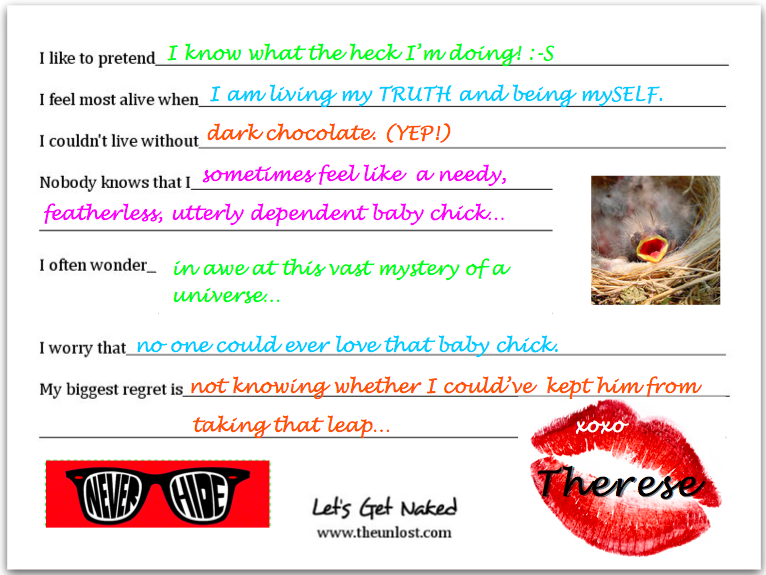 Maja Gray is Going Streaking ♥
Jeremy is Going Streaking ♥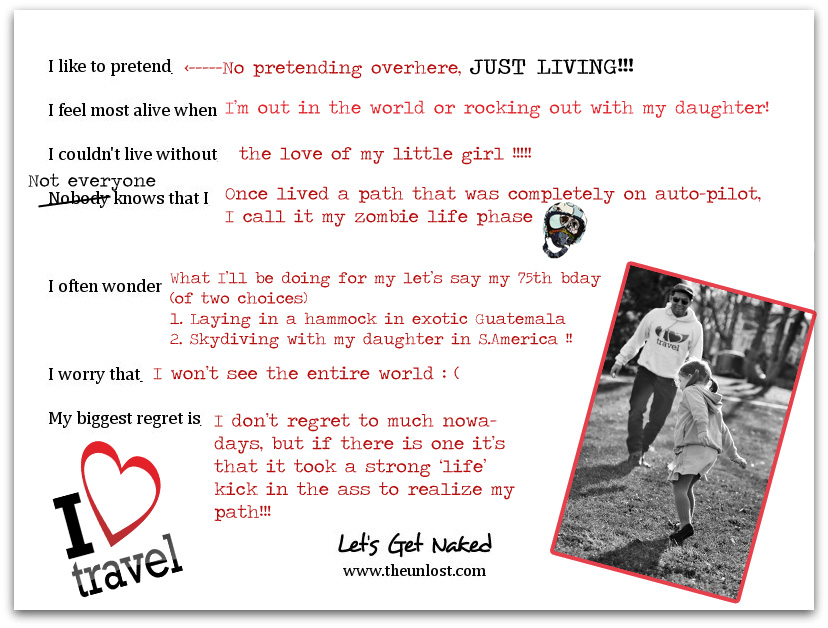 Stephanie is Going Streaking ♥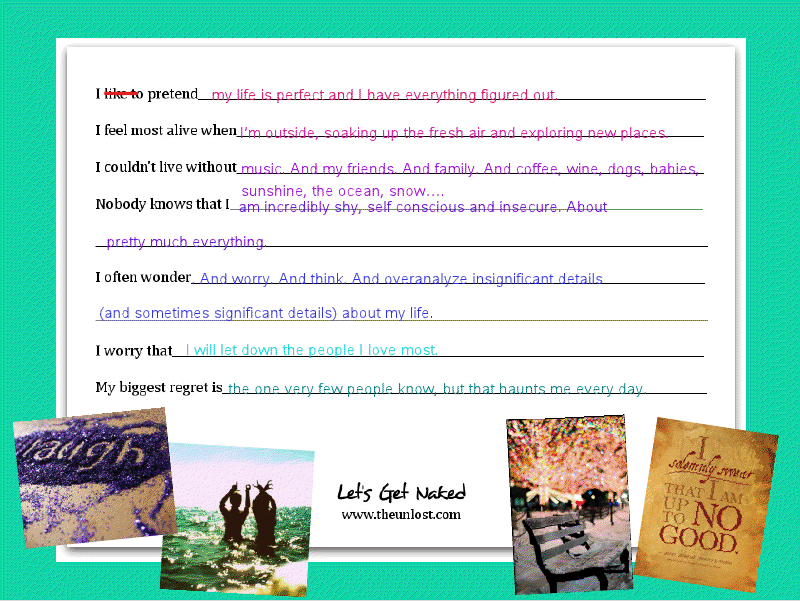 Dana is Going Streaking ♥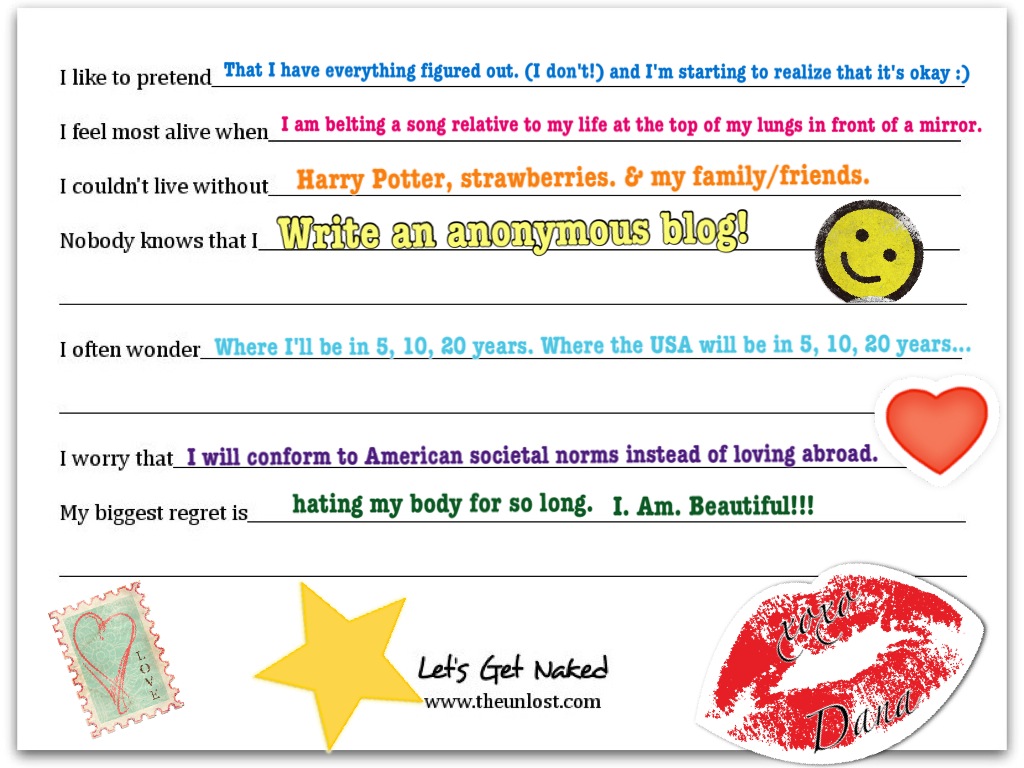 Jenn is Going Streaking ♥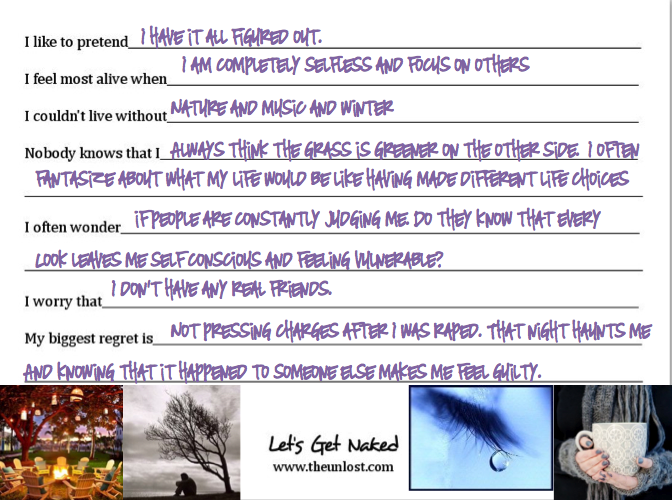 Maša is Going Streaking ♥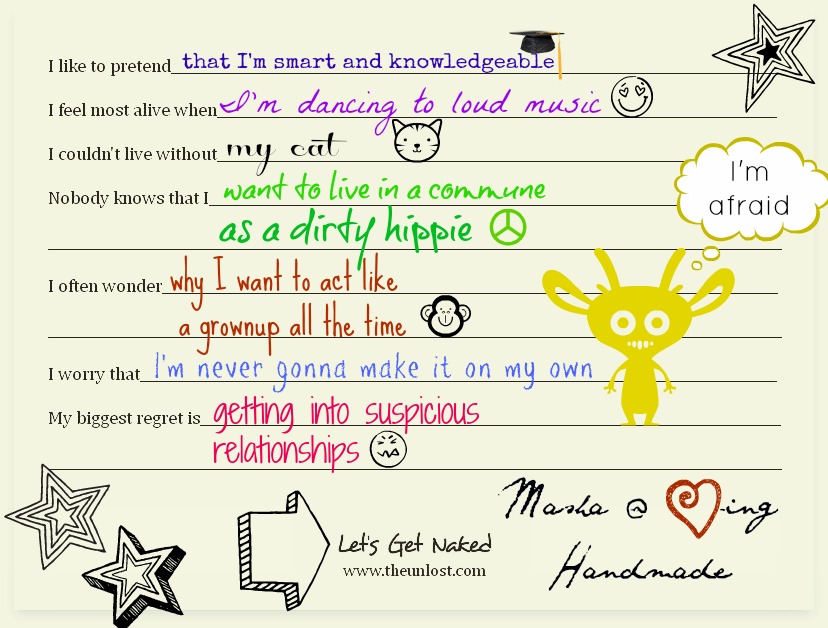 Here's what I want you to know today, guys:
Showing up fully as ourselves, as who we are in this moment, is the greatest gift we can offer the world. My deepest hope is that The Unlost can be a place where we can continually show up as nobody-but-ourselves, and where each of us will be welcomed exactly as we are— as our sometimes afraid, sometimes imperfect, always spectacular, always loved, always worthy selves.
Streaking isn't all that fun all by yourself (Frank learned this the hard way), so if you wanna join in, we'd be delighted. Simply download Ashley's fill-in here (PDF) or here (JPEG), artsy it up, and send your nude photos to therese (at) theunlost (dot) com. (Please do not ACTUALLY send me a nude photo or I will slap you. K thx!)
I'll post up more as I receive 'em, and Ashley will be pinning them away! (Follow Ashley's Unlost pins, btw, or R.I.P.!)
Errrbody, we're going streaking!!
# # #
[Main image by Barry Pousman-- "Never Hide" image by L.e.e.]
Free Unlost Gift Pack
Get our mini-kit for finding work you love, the toolbox for dealing with crappiness and more - plus weekly awesomeness in your inbox:
related

posts

« 47 Completely Honest, Raw, Unfiltered Thoughts When Facing Tough Decisions, Do This »