A few months ago, something made me laugh so hard that my morning latte came spewing out through my nose. It was a moment of pure and unexpected delight in the midst of an otherwise boring morning.
So you know how search engines will auto-fill your queries with the most popular search terms? Well, here's what popped up that morning when I began typing in "what is the…" (to be honest, I don't even remember what I was searching for anymore, but the results were hilarious.) Take a look below and be prepared to pee your pants laughing.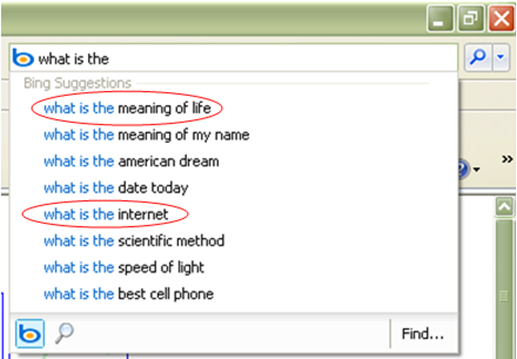 This is awesome and hilarious for more than one reason:
1. A bunch of people apparently think they're gonna find the meaning of life on the internet. Hahahahaha… haha. Ha. Why search within your soul when you can just google it, right?!
2. There are also several people who STILL DON'T KNOW WHAT THE INTERNET IS… even though they are in fact USING the internet to search for the answer to this question. CAN SOMEBODY PLEASE TELL ME WHO THESE PEOPLE ARE SO I CAN LAUGH AT THEM TO THEIR FACES? Lol… okay, that wasn't very nice. I take that back. Sort of.
3. People are also confused as to what today's date is, but I'll refrain from making fun of them too much. However, if you do ever need to know the date, just remember that— oh hey, it's displayed right in the bottom corner of your computer screen.
Okay then. So, hilarious shit aside, there's actually a reason why I shared this with you today, namely that I think it proves a valid point:  a whole bunch of us are searching for a deeper meaning in our lives— for some sort of a purpose.
Yeah, it's true.
To be sure, most of us are looking for it in the wrong places— on the internet, at the mall, at the bottom of a goddamn whiskey bottle — but nonetheless, we're all looking for something to help us make sense of this weird and unfathomable and yet totally normal life we've been given.
And to be sure, many of us don't really even know what it is that we're looking for— all we know is that when we sit still for long enough and stop gorging our lives with distraction, we hear something within us that's whispering (or perhaps screaming) "what the heck is missing in my life?"
I can assure you that not a single one of us is immune to this yearning for something that we can't quite name.
And while I'm not sure that I can give you the answers to all your questions (my sincere apologies to those of you who arrived here via a Google search for the meaning of life), I can give you something that I think you'll like.
No— it's not a lollipop, you dumbass (just kidding; I would never call you a dumbass). It's not a copy of the new Lil' Wayne album, either.
It's simply validation that you're not alone in your search.
That's right— it turns out that we're all in this together. You, me, that fat dude sitting next to you on the airplane. We're all in it together whether we realize it or not— not just in the airplane, but in this strange and wild ride we call life.
My deepest hope is that The Unlost can become much more than just a blog— that it can become a place where we can throw out our bullshit exteriors and just be real with each other. I hope it can become a place where we can come together and stop feeling so alone, because we aren't alone at all. And I hope it can become a place where we can begin discovering the answers that are already resting deeply within our own souls. If you want to join the party, enter your details into the box below and I'll be in touch with you each and every week. And please don't hesitate to say hello— it makes my day to hear from you guys.
So now that the corniness is over with, who wants to go grab a beer with me tonight?
# # #
[Photo by m400n3d]
Free Unlost Gift Pack
Get our mini-kit for finding work you love, the toolbox for dealing with crappiness and more - plus weekly awesomeness in your inbox:
related

posts

« The Time Tested, Tried and True, Totally Weird Way to Deal With Sucky Feelings Tiny Buddha Guest Post: Why Happiness Will Never Come to You »