Editor's Note: This is a guest post by Aubrie M.
Someone gave me Oprah's 20th Anniversary DVD set when I was 24. If I remember right, there were (are) 6 DVDs in the set. I watched all of them in one sitting.
I wasn't a particularly fantastic fan of Oprah. It was actually a weird-ass present for someone to give me. But man, that chick knows how to get shit done. So it was there, in my studio apartment in downtown Tacoma, Washington, where my passion to do something was ignited. I just didn't know what. I did know that sitting on my floor, eating microwave popcorn, and weeping into a paper towel whilst nodding at Oprah on my 19-inch tube TV was not the answer.
The fire would flicker for years until it would focus.
I've always been a bit of an odd bird. Growing up wasn't the easiest and I was an awkward, albeit delusional adolescent. I knew I was dealt a hand out of favor by the time I hit my mid-teens. After some angsty, stumbling, mistake and anger-ridden years, I pulled my head out the whiskey barrel and decided I had a whole lot to say with no audience. I was also irresponsible, immature and too pissed off for my own good.
Flash forward about 7 more years, and I got a little education under my belt, a few courses of anger-management, some faith, some humor and some well-earned humility. And Oprah.
There's always room for Oprah. (That's how the saying goes, right?)
So, cats and kittens, this is ultimately a story about failure. Now I could go out on my Human Resources limb and say that failures are opportunities right? Well…yeah. That's right. But saying that is also annoying. And I'm a pinch too sardonic and cynical to ever write that with a straight face.
I digress.
A few years ago, my 'do-something' fire ignited into full on flames to help young girls not get so damn lost (see what I did there?) in their own shit. I wanted them to see beyond. Beyond adolescence. Beyond addiction. Beyond abuse. Beyond the mirror. Beyond their bodies. Beyond media. I knew that I had a story to share. And I knew my story could help pull some girls out from under the weight of their own life. My easiest filter became the church I attend. And I thought to myself, 'Hey girl, how about Youth Group?'
And yes. I really talk to myself like that.
Are you laughing yet? You should be. Well, if you knew me-knew me, you'd be laughing. Let me tell you all the reasons I should NOT have been a Youth Leader: I cuss too much, I'm covered in tattoos, I'm uncomfortable around women (and yes, I'm a woman), I'm sarcastic and impatient, I cuss too much, teenagers drive me nuts, annnnnnnnnnd I cuss too much. But the Doublemint Twins of the Youth Leadership… I don't know, management?… said that I was what the church needed; that I was 'real' enough for the kids to relate to. (I know I'm saying 'Doublemint Twins' all casually and whatnot, but I-kid-you-not, these two were both mid-twenties, petite, aesthetically pleasing and blonde. And they were married. To each other.)
So, I did it.
And holy hell did those girls flock to me. I don't know if you've ever experienced the fervor of a group of 16 year old girls, but it's ****ing intense. My introversion alarm went off like gangbusters and didn't shut off for a solid six months.
And the next six months went like this:
The church would give me script to follow during our meetings. I would start in, and then get interrupted by one or all (usually all) of the girls wanting to talk about something else. Most of the time, they wanted to talk about life. Like, their struggles at home and homework and school and cutting and self-mutilation and drugs and eating disorders and sex and abuse and fear and love and real. life. heavy. shit.
And you know what? I thrive in heaviness. It's my Colosseum. And I'm a mother-effing gladiator.
And every month or so, I'd go back to the Doublemint Twins and tell them that there is a bigger thing going on than what they're trying to offer. I told them they needed more support groups available to adolescents. I told them that I had two girls in my group alone that had admitted to being abused. I had one girl pull me aside and pour her ever-living heart out to me about the unsafe sex she was having with her boyfriend in her parents' house. Another asked me to stay after our group meeting so she could just have someone listen while she cried and told me that she bounced between cutting herself and snorting lines in her bedroom at home, everyday.
And I'd carry their secrets with me to the Leadership office. And I'd plead for the church to let me do something. Anything. I had a crapload of ideas and a burning belly full of love and fear and fight for these girls. And the church would nod, and say 'Okay,' and write some things on a pad of paper.
And then nothing would happen. And that was it. On replay.
June came and I decided that being a caged bird was no longer my deal. I couldn't help from the behind the red tape. And I couldn't double-talk my way out of answers to the girls anymore. I couldn't look into their faces every week while they waited for an answer, any answer to any question they had, and fail them over and over again.
So, I walked away. And I feel like I failed the girls and the church failed the girls.
I'm uncomfortable with failing. It doesn't sit well in my gut. Especially when I chose to leave with a fire still burning.
But, my takeaway is that I'm meant for something bigger. And I've always known that. Even before the failure.  And this failure was a necessary fork in a necessary path.
So.
What forks are you facing? And did you know that it's okay to fail? Because it is. And that should be what you take out of me blathering on about youth group, cussing and Oprah DVD box-sets. Get comfortable in the 'I don't knows' of your life. In fact, square dance right in the middle of your uncertainty. Who cares if you fall on your face? As long as you get up, take a curtsy (or bow, whichever you prefer) and move along, little doggy.
I don't fit a mold, and I never have. And I'm pretty sure you, my reader friend, don't fit a mold either. I need the freedom to be myself, love fearlessly, defend endlessly and have my voice heard. And heard. And heard. And heard. Kinda like Oprah.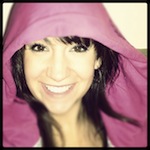 About the author:
 Aubrie is lucky enough to married to the coolest dude she's ever known. She's a kick-ass auntie, a proud sister of two brothers, and great friend. She loves 90's R&B music, dogs, punctuation, drinking wine out of mugs, using slang in everyday conversation, and her ballin'-ass (almost) 2 year old nephew.
By day, she works in Finance. She is a writer by hobby and ballerina by years of painful training. She might start a blog one day.
If you got somethin' to say, say it to: AM.writesstuff@gmail.com 
# # #
 [Image by nayrb7]
related

posts

« What Snow White Taught Me About Dating In This Very Moment, You Already Have Enough »