Just to start the week off right, here are five things I'm totally embarrassed to admit, because, hey, why not?
Five Things I am Totally Embarrassed to Admit:
1. OK, so… I wear Ed Hardy perfume. I know, right? Douchiness. (Wait, can a girl be douchey?) But the thing is, I seriously can't help it. Because, well, it smells SO. RIDICULOUSLY. GOOD. Please don't tell anyone… K thanks.
2. A few months ago I LIT MY HAIR ON FIRE. Seriously. So I was having this super relaxing night with candles and John Mayer and all that jazz (OK, so maybe John Mayer wasn't actually there), when I decided that, hey, wouldn't it be a great idea to lean over this candle and to let my long-ass hair catch aflame?
Yep. Can't make this crap up. No worries though; I'm still alive and I still have hair— it's just, oh, about an inch or two shorter now ;-). Also, I didn't end up having to call the fire department. Which, come to think of it, is sort of too bad, because I've heard that there are some really hot firefighters around here.
3. I LOVE TO WATCH THE BACHELOR. I know; it's totally stupid, right!?? Even worse, I'm afraid that no matter how much I shamelessly make fun of stupid crap like this, I MAY NEVER STOP WATCHING THE BACHELOR. (I'm allowed one guilty pleasure, right?!)
4. While grocery shopping, all I really want to do is fill my cart with goldfish crackers and fruit snacks and pudding and OMG FRUITY PEBBLES because let's get honest, that kid stuff is delicious. WHAT AM I, FOUR?!
5. Have you ever seen a room that was TOTALLY PLASTERED WITH HANSON POSTERS? I'm not talking like one or two posters, or even five. I'm talking, like, COMPLETELY EFFING COVERED FROM WALL TO WALL.
Well, have you?
No?
Then you've obviously never seen my bedroom when I was, like, twelve.
Yes, I am that cool, thank you. (On another note, if you were born in like 1996 and you're like, "Who the heck is Hanson?" please GO HOME NOW because you're making me feel super old.)
So there you have it: five things that are totally freaking embarrassing.
But WAIT; there's more.
There are also some other things, guys— things I'm embarrassed of that aren't embarrassing and funny, but that are actually embarrassing and painful.
Things that I've always kind of tried to hide. Things that I don't really want to tell people about, because— well, they make me different. And weird. Things that I believe no one can ever really understand— or would even want to try and understand. Things that I have to keep to myself and that I feel like I'll always be all alone in.
Like, did you know that I have an old person's disease?
Yeah, I have rheumatoid arthritis.
Which, among other things, means that I have totally ugly hands.
Seriously. Check it out, guys, here it is: "The Hand:"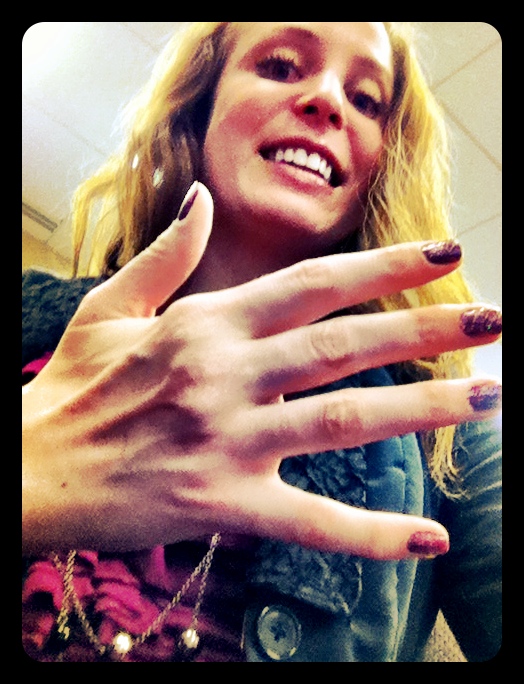 So…
Some people might think that's funny, and it kind of is, except really it's not.
Really it's this monster that's all like, "Oh hey, Therese's immune system! So, see those lovely joints you have? Well, I bet you didn't know this— but those aren't actually joints. NO— those are actually EVIL FOREIGN INVADERS THAT MUST BE ATTACKED AT ALL COSTS."
And then it's like this ridiculous f***ing war is raging in my joints between my body and— well, my body. Just imagine having grenades blowing up inside your joints. All the time. Always. Like, it never stops.
Did you know that at my worst, my knees look like watermelons and I can't even move them even an inch without screaming out in pain?
Did you know that from the time I was 16 years old till the time I was 20, I cried just about every morning because it was so damn difficult just to get out of bed, get ready for the day and show up at school?
That there were days when I sat on the edge of my bed for hours on end and sobbed because I physically, literally could not stand up and walk across the f***ing room?
And that when I could walk across the room and somehow make it to school for the day, getting out of my chair after class was like a feat of accomplishment?
Like, it was such a production and I looked like such an effing idiot that I would wait until everyone else left the classroom to get up? Because otherwise, those perfect girls with their perfect Taylor Swift fairytale lives and their perfect quarterback boyfriends would stare at me like I had some sort of a disability?
Which I guess I did, dammit, except that I refused to admit it. Because I wasn't a crippled invalid; I was a soccer player, and a good one at that.
Did you know that I used to go and cry in the bathroom stalls in between classes because for goshsake, I'm a 16 year-old trapped in a 120 year-old's body and, forget the fact that I'll never play soccer again, I can't even take a single freaking step without feeling like I'm in some sort of a nightmare where my own body has become my worst enemy?
That my doctor once told me I could be in a wheelchair by the time I was 30?
Well, I've still got three years to go, but I'm not in a freaking wheelchair. I'm no longer in a nightmare, either, by the way. By some mixture of grace and Chinese herbs and modern medicine, today I can hike up hills and do Pilates and wear awesome red heels. Today I am the luckiest girl in the world.
Tomorrow, I might not be.
Either way, my hands are still ugly.
* * *
So here's the funny thing, guys— except really, it's not funny at all:
We've all got some version of "The Hand."
All of us.
Every. Single. One of us.
In fact, I've learned that as difficult as it may have been for me, my experiences are literally nothing compared to what some of my strong, beautiful, amazing friends have gone through.
Like a reader of mine who, at the age of 19, suffered a head injury which left half of her body paralyzed… losing not only her health, but also her job, her boyfriend, and her life as she knew it.
Like my amazingly smart, caring friend whose dad died when he was just a kid… and then whose mom unexpectedly passed away before he even graduated from college.
Yes; the more I get to know people— successful, "happy," perfect people— the more I realize that we've all got these things.
And at the very same time, we all walk around thinking that no one else has got them.
We all walk around hiding our "ugly hands" and thinking that we're absolutely alone in our struggles.
BULLSHIT.
Now this is what I call delusion.
In fact, guys, I think it's time for another public service announcement.
Public service announcement: WE ARE ALL FREAKING DELUSIONAL!! (Tweet this)
Let me say that one more time:
Public service announcement: WE ARE ALL FREAKING DELUSIONAL!! (Tweet this)
We are all freaking delusional because we imagine that we're the only ones with ugly hands.
Your great mistake is to act the drama as if you were alone.
- David Whyte
And not only are you not the only one who's struggling, but I'm also convinced that there's some weird, tender compassion that's encompassing us all of the time, whether we know it or not.
* * *
I used to try and hide my ugly hands to keep people from noticing them and their ridiculously ugly gnarliness. I used to wonder, who the hell would ever want to marry me and my ugly hands and my knees that can't run? (That was back in the day when things like marriage and timing were of utmost importance.) "An engagement ring is WAY too pretty for this hand," I thought. I never wore nail polish, either, because— well, it'd only draw more attention to "The Hand."
Deep down I was deathly afraid that… well, that maybe no one could ever love this.
That who I am, just as I am, ugly hands and all— maybe it's not really worthy.
But over the years, I've come to understand a different story.
I've come to see that our "ugly hands" aren't what make us unlovable.
They're not what make us different.
And they're not what make us alone.
Instead, they are what connect us. They are what make us human; they are what join us together.
They are that invisible, unbreakable thread that strings our hearts together like a necklace of stars in the sky. We are a constellation of souls that, although separate, are unmistakenly connected by that common thread of humanity, by that tender core that lies within each of us.
If only we can come to know that we are not just one star, but one star of many that's safely held within this blanket-of-a-universe; if only we can allow ourselves to be met in that place that is most ugly and tender and vulnerable— perhaps we will come to find that there is beauty here, after all.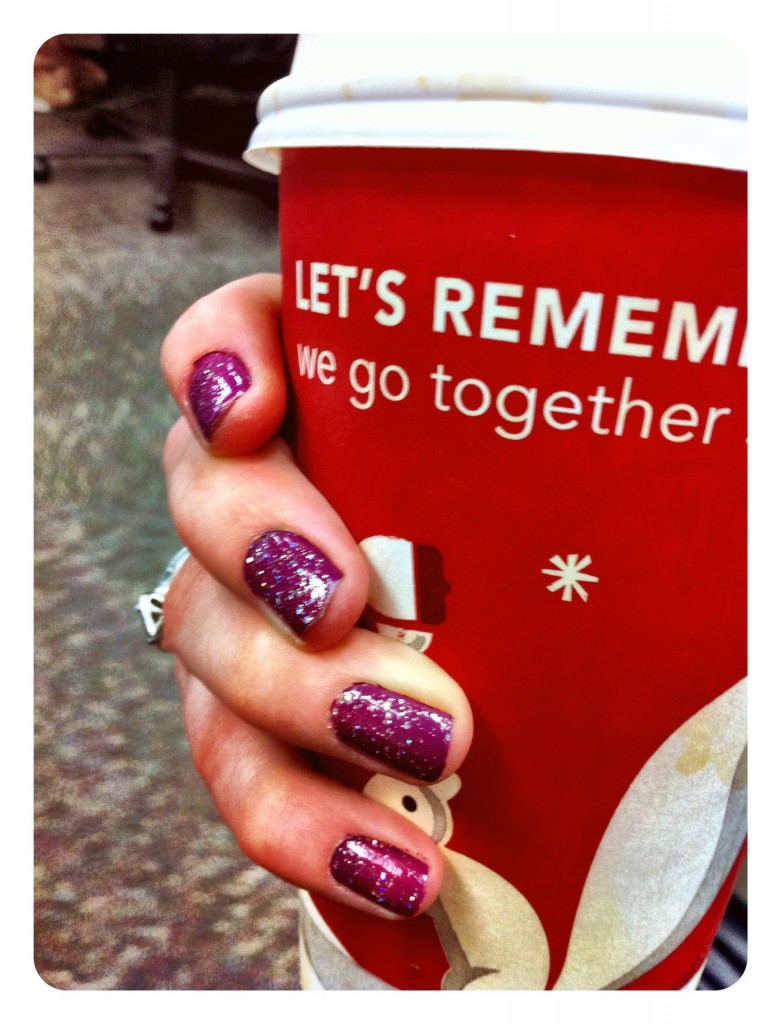 .
.
.
.
.
.
.
.
.
.
.
.
.
.
.
.
# # #
Free Unlost Gift Pack
Get our mini-kit for finding work you love, the toolbox for dealing with crappiness and more - plus weekly awesomeness in your inbox:
related

posts

« Totally Stupid Shit I learned from Disney Princesses (+ Other Awesome Sources of Wisdom) I Don't Want You to Live a Good Life. Here's Why. »