So today I wanna talk about something that's particularly relevant and important in today's society: stuff stupid college girls do.
Yep.
It all started when I decided to look through the 1,246 Facebook photos (really?) that I've been tagged in over the years.
Whilst browsing said photos, I came to the shocking conclusion that the majority of my college years were spent not partying, not chasing dudes, not even being hungover, but TAKING NUMEROUS PHOTOS of said activities for the sole purpose of posting them to Facebook.
Why? To prove that I was COOL, beetch!
Furthermore, nerdy analysis of photos taken during college years revealed astonishing insight into the "stuff stupid college girls do." Amazingly, at least three quarters of my photos fell under one of three categories:
(1) Proving my excessive consumption of alcoholic beverages, and thus proving my resulting coolness.
(2) Proving my purported sexiness, normally whilst wearing some sort of a costume-outfit-(piece-of-cloth?), and thus proving my resulting worthiness.
(3) Making weirdo faces and/or kissing strange objects. (Not sure what this one proves, but, um… ah well.)
The remaining 1/4 of photos fell under some combination of the aforementioned categories.
It was at this moment that I had a brilliant flash of insight: Before I get all famous and shit and my friends start selling my embarrassing FB pics to the paparazzi for millions of dollars, I decided, hey, why not beat them to the punch and share the pictures myself?
#selfsabotage!!
Today's post may both shock & embarrass my parents (sorry, Mom), but hey, it all turns out great in the end — promise. So without further ado, let's get this self-embarrassment-sesh started.
[SIDENOTE: While I appreciate your sincere concern regarding my future employability (or lack thereof) due to the posting of these photos, DO NOT FEAR! I can assure you that I plan on never having a "normal job" again.]
1. EXCESSIVE CONSUMPTION OF ADULT BEVERAGES 
"Look at me! I'm friggin wasteddd! Oh man, I had, like, 16 shots of Jager tonight. YOU SHOULD THINK I'M AWESOME!!"
*Fall on disgusting gum-and-popcorn-littered sticky bar floor.*
"HAHAH!"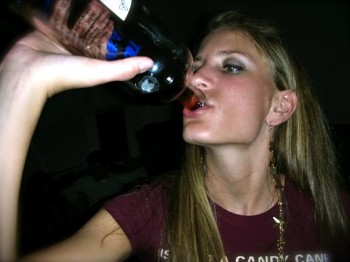 "OMG, we gots some beer. We should prolly take a picture posing with it, LOL!!! WE IS SO COOL!"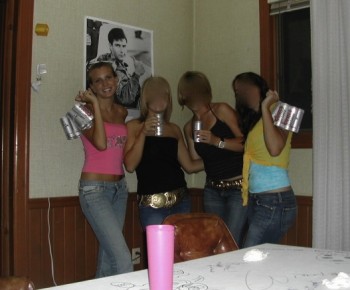 Shots in the middle of the day, wheeeeeee…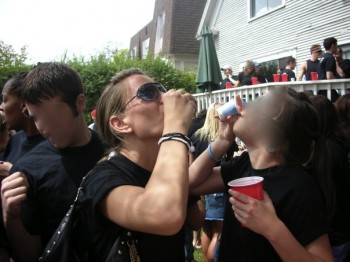 "Will you take a pic of me chugging beer in a public restroom? Mmmkay thx."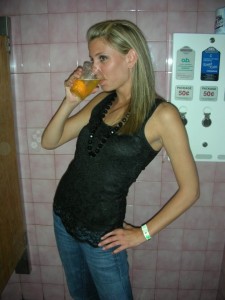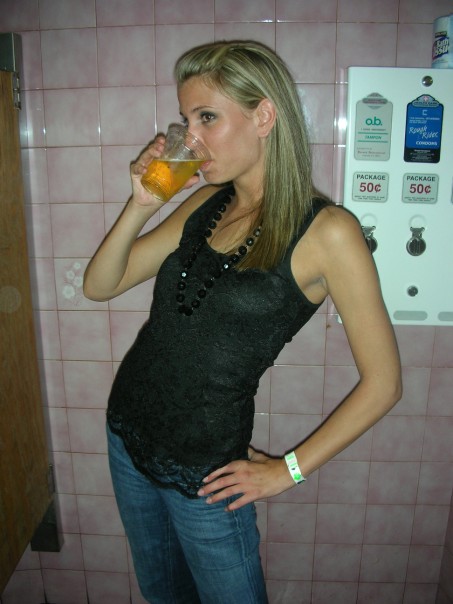 TEQUILA.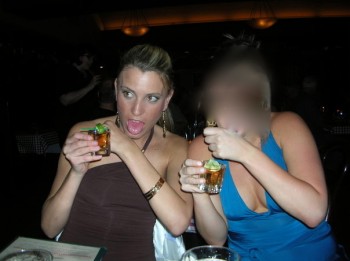 CHAMPAGNE!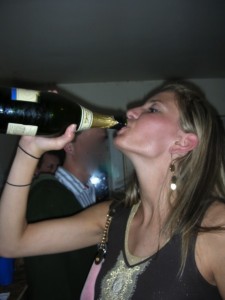 GINORMOUS MARGARITA!!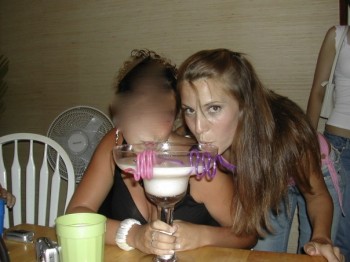 Skyyyyy.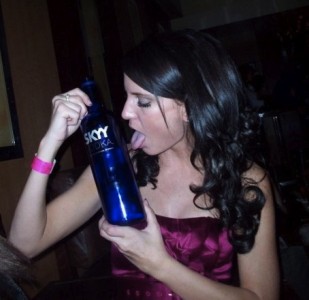 I'm sexy, biatch.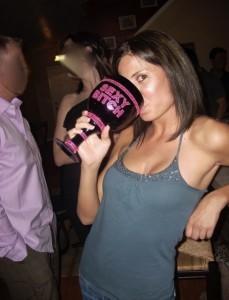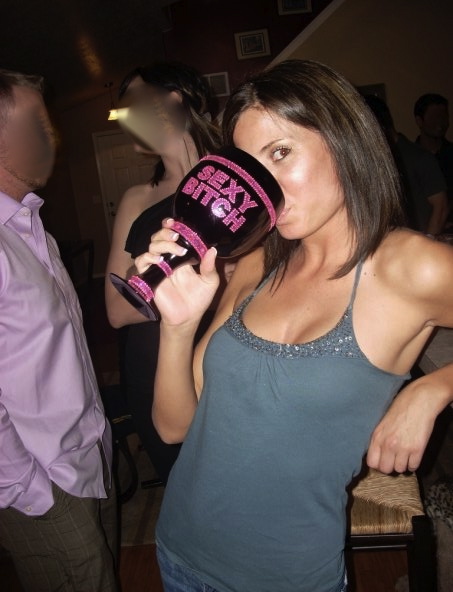 2. EXCESSIVE PROVING OF SEXINESS (whilst wearing costume-like-things)
"Oh hey, look at me! I'm wearing a sexayy pirate costume-outfit-piece-of-cloth! Oh hey youuu! Pay attentionnnn!!"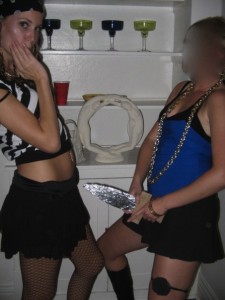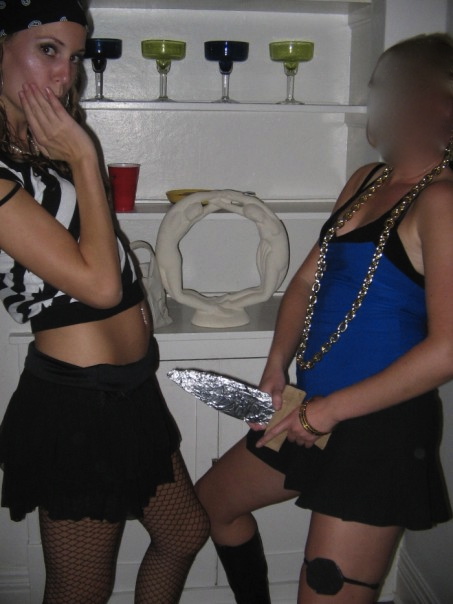 Oh hayyyy! Ladybugs r sexyyy!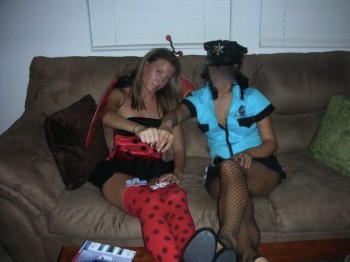 Sexy pajama party.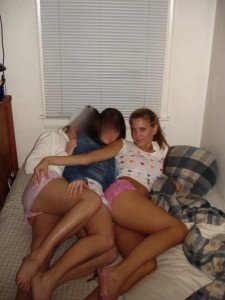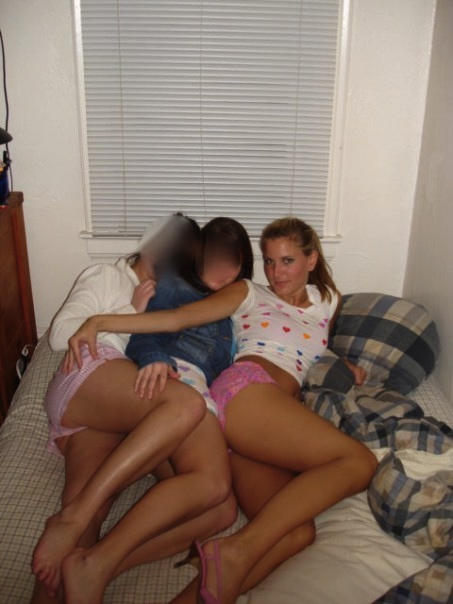 Sexy army chick.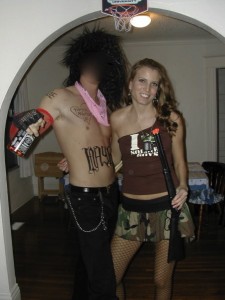 Sexy princess? (Mean mug.)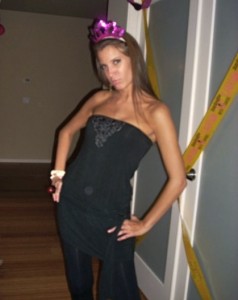 Sexy pirate II.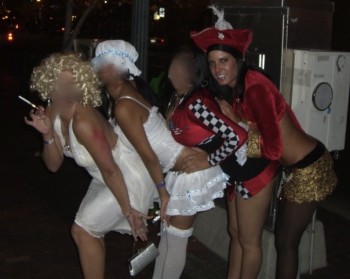 Sexy Eskimo.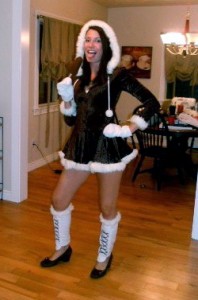 Sexay.
Alrighty then.
3. EXCESSIVE WEIRDO FACES + KISSING STUFF:
Weirdo face & random floating hand.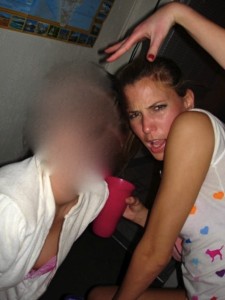 AHAHAHAHAHA!!!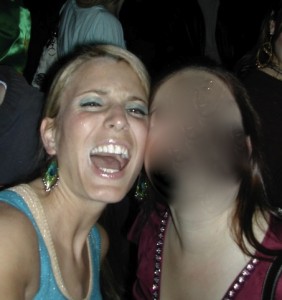 Halo face.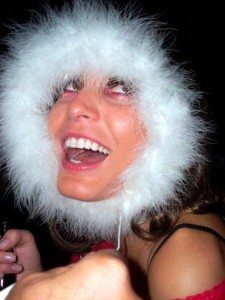 Weirdo-face-witha-cup-on-my-head (Don't ask 'cause I've got nooo idea.)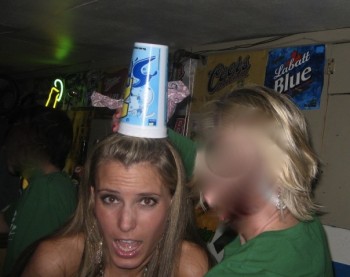 Constipated-weirdo-face-while-sticking-out-tongue (btw, check the RAZR phone. SO COOL.)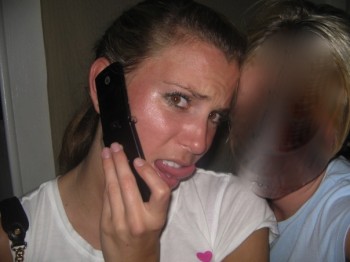 Super-serious-scary-face-while-posing-with-bachelorette-party-accessories (bwahahahaha WAIT did I really just post this on the interwebz?)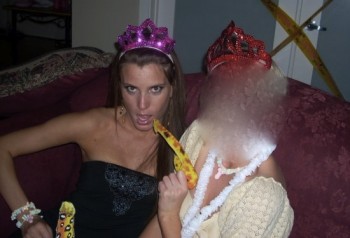 Kissing a hamster. (But WAIT, it gets weirder.)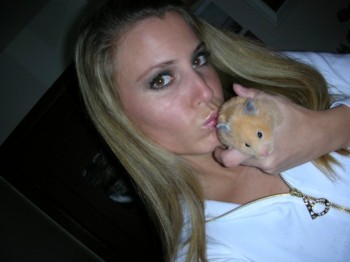 Kissing a mannequin.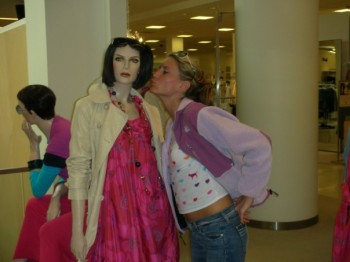 Kissing a floating head-with-a-beard.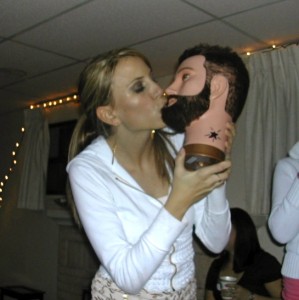 Kissing a dead skeleton-crypt-dude.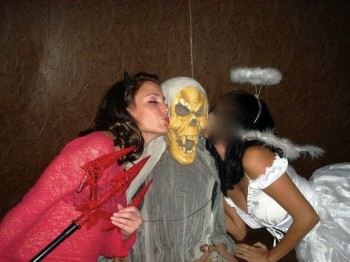 Kissing a… pumpkin?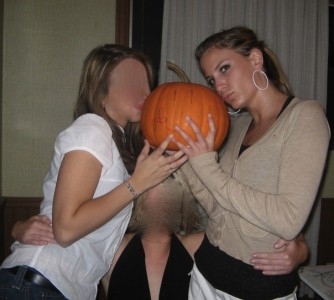 Mmmkay then.
AWESOME COMBINATIONS
Selected awesome combinations of aforementioned categories:
Weirdo faces + drinking of champagne: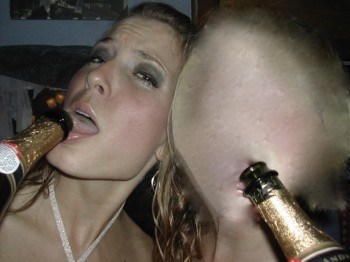 Weirdo faces + consumption-of-beverages + costume-like garb (minus sexiness):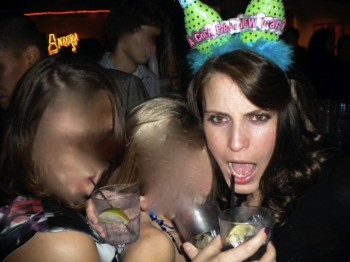 & NOW for the ULTIMATE COMBINATION OF ALL THREE: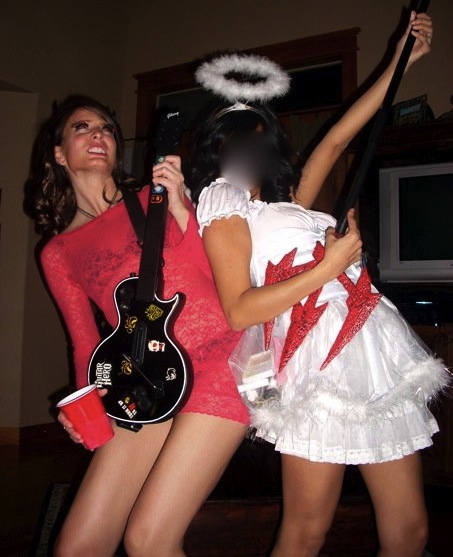 YES!
I mean, NO!!
I mean… WTF??!!!
THIS IS GETTING WEIRD NOW
"So what the heck was that all about, Therese?" you're probably asking.
Well, here's what.
Guys, I spent years of my life being someone else's version of me, trying desperately to prove to others what I couldn't quite see in myself.
LOOK HOW COOL I AM! LOOK HOW SEXY I AM! TELL ME I'M COOL & AWESOME & SEXY! MAKE ME FEEL LIKE I'M WORTHY OF LOVE & ATTENTION! TELL ME WHO I AM AND WHAT TO BELIEVE AND HOW TO BEHAVE BECAUSE I HAVE NO FREAKING CLUE!
I didn't realize it at the time, but beneath all the consumption and the kissy faces and the costume-outfits, I was really begging others to validate me, to provide me with a sense of worth & a sense of self that I hadn't yet come to know. When others reacted favorably, I was on top of the world. When they didn't, I was crushed.
Believe it or not, it's not just stupid college girls who do this — we've all got things we feel like we need to prove to others. If it's not coolness or sexiness, it might be achievement or intelligence or wealth or perfection. We've all got masks we feel we must wear for the world, until one day we realize that we don't. We don't have to wear these masks, we don't have anything to prove, and who we are when all else falls away — that in itself is enough.
Today, slowly but surely over time, things are changing.
Today, my embarrassing photos look more like this: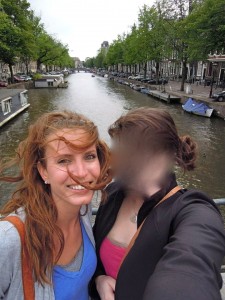 (See, Mom, I told you it gets better!)
Today, I've come to know this:
I don't have to drink myself into a stupor to feel like I belong or to prove that I'm the coolest of the cool. In fact, today I don't care all too much whether I'm "cool" at all — today I'm coming to know that all I need to be, all I want to be, is ME, just who I am, and that this alone is enough. Hell, I am more than enough. I don't need to fit into society's definition of "cool" in order to belong.
(Now don't get me wrong; I still love myself a drink or two. But that's just it: a drink or two, and not ten. I've come to see that the lush I once was wasn't nearly as cool as I'd imagined she was. In fact, today I look back and think that girl was pretty redonkulous.)
Today, I've come to know this:
I am worthy and beautiful and valuable, and I don't have to show my skin to prove it. I don't have to live up to some Victoria's-Secret-Kim-Kardashian-version of sexiness to prove it. In fact, I don't have to prove it at all; it just is. I just am. My worth needs no validation.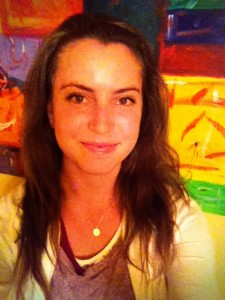 Instead of being defined by others or by my environment or by my status, today I am defined by my self. Today I walk my own path. Today I am who I am. Amaze-balls.
Today you are You, that is truer than true. There is no one alive who is Youer than You.
 – Dr. Seuss
Guys, a true sense of validation and worth doesn't come from outside of yourself; it comes from within. Others can help affirm it, others can help you come to see its existence, and yet others do not and cannot create it — it is something that already exists within you, something that has always existed within you.
On the same token, others cannot tear down your true sense of worth, your true sense of self. It can never be taken from you and it can never be destroyed, for it's something that always has been and always will be within you, no matter what.
So go on and say it to yourself:
"Today I have nothing to prove.
Today I am who I am, and who I am is more than enough.
I am worthy & amaze-balls & awesomesauce defined.
Today I am me-to-the-max."
# # #
OH HAYY, look who joined Pinterest!
 [Image by Helga Weber]
related

posts

« Shattering The Illusion of All Alone: Depression, Suicide, and Why The World (Not You) is Effing Insane Will Your College Edumacation Get You a Job? »