Editor's note: This is a guest post by my amazing brother, Bob Schwenkler.
There's something that nobody in your life has been willing or able to tell you.
It's kept the world around you suffering, whether in a low level subconscious way, or in an outright acute painful kind of way. It's kept you in pain. It's kept you caged. It's kept you from living, breathing, and loving as deeply as you're meant to.
I want you to stop it. I want me to stop it too. I'm just as guilty as anyone else.
It's ruined amazing relationships. It's kept me in depression for years. It's kept me worrying about money for months on end. It's kept me from bringing my gift to the world. It's kept me from taking the actions I need to take to leave the kind of legacy I'd want my kids AND your kids to inherit.
Here's what nobody else will tell you: Your unwillingness to ask for what you want is the reason that all this suffering is happening.
Your unwillingness to let that hottie know that he/she is a hottie and ask them out on a date.
Your unwillingness to ask for the sale for an offering you are deeply in alignment with.
Your unwillingness to ask for that guest post.
Your unwillingness to ask for support from the world around you.
These are the reasons the world is suffering and you're not acknowledging it. Every single time you bite your tongue or fail to hit publish, you're lying to yourself and the person in front of you! You're lying by withholding your truest desire. You're being needy.
You're being needy by NOT making your asks!
What?! Yes!
You're essentially saying "I want your ostensible approval more than I want to share my gift. This gift that nobody else in the world can offer except for me. I'm holding it back from you and the rest of the world because I'm needy. I'm scared and I need you to sooth my fears. I need your approval. I need you to think of me as a good, respectable person. I'm going to hold back from sharing my offering, my art, with you."
It doesn't matter if your art is dance, writing, music, smiling, cuddling, coaching, web design, or writing love notes… if you do it, it's art. It's your gift to the world, the thing you do like nobody else can.
"But who am I to…? What if nobody likes it? What if they get upset? What if I'm wasting their time? What will they think of me?"
You are holding back from creating an opportunity for the world to experience something that they cannot experience anywhere else!
Selfish. Needy. You are waiting for someone else's approval before you offer your gift!
This is also you saying to the person in front of you, to your reader, to your listener, to whomever's life you might otherwise affect, "I don't believe in you. I don't have the faith that you can get in touch with your own needs and respond with a clear yes or no to my request. I'm selling out on you as a capable, powerful, loving human being."
Where in your life are you holding back your truth?
What conversations have you left unhad? What pieces of art have you left unshown? What asks have you left unasked?
You (and I) are needy. We won't ask for what we truly want. We don't trust others to let us know what they truly want. It's damaging the world. That's the problem and the challenge.
Here's the solution. It's simple, yet it takes work.
Get clear with yourself. What, exactly, would you like? Take the time you need to get in touch! Creating, recommitting to, or enhancing  a self care routine will do wonders. Go on a walk or run, take a break, eat a healthy breakfast, go to therapy, or hire a coach. Go laugh, cry, or get some sleep. Meditate. Buy a self help book. Go swimming. Do something just for you, your body, and your heart!
Get clear on what you want. When the answer to the question "What would I like?" comes from somewhere deep and true within, you MUST ask for it.
Here, I'll go first. I'll model:
Thank you for reading these words today, for being with me. I have something to ask of you. I'd like your support. Know that although this is something I'd like, it's not something I need. The world is abundant. Everything I need to create, live well, and be happy exists and is available to me.
My first ask is that you leave space for the powerful "yesses" in your life by saying no to anything less than a 10 out of 10, starting right here. If you're not 100% on board with my request, please say "no." No creates space for the truest kind of yes.
I'm Bob Schwenkler, and as a coach I help extraordinary people create miracles in their lives.
For the past year my mission has been to work with men. I believe that when men are in touch with our passion, our purpose in life, our hearts, and our emotions, we stop checking out of our lives. Instead we show up fully to relationships with our families, children, and friends. The work we do changes from something that makes us money into creating heartfelt and impactful legacies.
In short, I help men love bigger, f*** better, and make money doing work that feeds them.
Also, you'll be one of the first to know that I'm also opening my practice up to women. I help the over functioning woman slow down, relax, get present, and open up to beauty and connection on a level deeper than she ever dreamed possible.
The woman who has learned to relax and open up is powerful, a force to be reckoned with. Not powerful in a rigid, controlled, tiring way — powerful in a fluid, sexy, and authentically confident way. Work becomes effortless, an act of manifestation and flow. In relationship she can finally let go and melt into her partner from a place of deep trust.
She believes in love, feels at peace, and effortlessly creates the life of her dreams.
Do you know anybody who could use this kind of support? Are you one of them yourself? Please let them know about my work. Or go check it out yourself. It can be found at www.bobschwenkler.com.
I'm also currently creating a project that I'm extraordinarily passionate about. So much so that I've moved away from my home and am traveling by car for 5 months to create it. It's called Reclaiming Male Role Models. I'm connecting with inspiring, authentically powerful, and on-purpose men and having conversations about what it's meant for them to create their own versions of masculinity.
I want every man on this planet to be able to create his own self-true version of what it means to be a man. When this happens, what else becomes possible in the world will be truly amazing.
You can find this project at www.reclaimingmalerolemodels.com. If the work resonates with you please sign up for the newsletter and share it with your community!
How did that feel?
Creepy? Or confident? Do you feel more inspired or less inspired? Am I asking leading questions? Or do I really want you to deeply consider what I'm talking about?
I have one last request. After you're done reading, set a timer for 10 minutes. Close your computer or put away your phone. Be with yourself for a while.
When was the last time you really got honest with yourself about how you can serve the world in a bigger, bolder, more powerful way? When was the last time you sat with the question "What do I want?" When was the last time you got really clear about where you're holding back and who you could offer your art to?
Take that time now, please. Do it for me. Do it for your friends, family, and colleagues. But most of all do it for you. The beautiful thing is that when we do it firstly for our heart's deepest purpose, we can't help but do it for others as well.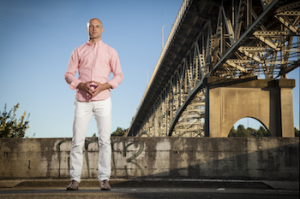 About the author: My name is Bob Schwenkler, founder of Reclaiming Male Role Models. As a coach I work with extraordinary men and women.
You can find out more about my work at www.bobschwenkler.com and www.reclaimingmalerolemodels.com.
[Image by Julia Photography2011]
related

posts

« The Summer of No Fear: How I smashed my insecurities, skyrocketed my confidence, and shattered my fear Promise Me This… »