Editor's note: This is a guest post by Aubrie M. of 
The New Montgomery
. She's going to be writing around these parts EVERY MONTH from hereon, which is pretty awesome if I do say so myself! :-D)
The Chair
I threw a chair at someone once.
An actual chair. One of those bar-stool height ones. At an actual person.
It was an ex-boyfriend and we were fighting over whose turn it was to do the dishes. And I was in the middle of painting the kitchen. And I was angry that the implication was for me to drop what I was doing (painting) and begin doing something else (the dishes) while he played video games. And I was angry that I even had to fight over how ridiculous this idea was. And I was angry that I was living in his house. That I moved into way too soon. Because I didn't love him. Hell, I barely even liked him. And I was angry that I let myself make that sort of impulsive decision because that's what it felt like I 'should have' done. And I was angry because I knew better.
So, as blind rages tend to go, I threw the first thing that I could grab. And the chair hit the wall and shattered.
Clearly, our relationship ended quickly after this night. In fact, it was the very next day. And I was heartbroken, but not in the conventional sense of 'heartbreak.' I was stewing with regret and heartbroken over my own stupidity.
No one ever tells you how to cope with a broken heart. For me, and probably for many, a broken heart truly manifests in a physical way. It is painful. Real, genuine pain. Right in that spot between the top of your stomach and bottom of your heart. It is heavy. And dark. And piercingly aching.
But no one tells you these things. Have you ever noticed that? There are a million life lessons that we are taught throughout our collective adolescence… We are taught how to drive, how to open a bank account, our basic right from wrong, getting good (or at least passing) grades, etc. These are all assumed milestones. But. It's the intangible situations that are the stickiest. The psychological rites of passage, as it were.
And I think because of that raw and tattered emotional gloominess, those topics are avoided. Because what really could be said? There is no magic pill. Or drink. There is no amount of dinners-out or movies-in with your friends that will erase the murky mess taking up residence in your brain. There is no right answer. Heartbreak is not a math test.
Heartbreak is hard, and there are none two the same. It is always about much, much more than the mourning.
One of my least favorite clichés is 'time heals all wounds,' because it is so generic. Of course it is true, but when you're in the middle of the muck and mire and trying to climb out of your heartbreak, you don't need someone standing at the edge of your pit yelling down at you, 'It's cool! Time heals all wounds!'
Thanks, dude. Wanna hand me a rope?
The Rope
So what does that time look like?
Honestly, it looks a little dank and shadowed when you're standing at the trailhead. It's not a forest that I'd want to gallivant through. But you have to begin somewhere. Trailblaze for the sake of your own damn healing. The time will pass anyway, right?
These four things, my adult-y friends, are what I know to be true. These things are what to do with all of your time:
1) Let the sadness come.
The sadness will come. Don't run away from it. The majority of my bad decisions have all been a result of running away from sadness. In the darkest reaches of my heartbreak, I was so terrified of being sad that I was frantic for distraction in whatever form it came.
And when you're desperate, you're clouded. And when you're clouded, you make poor decisions. You hang out with the wrong people. You drink too much. You fight with anything and everything that gets in your way. You treat your body like a trashcan. You throw chairs. You morph into a distorted, depressed and jaded shadow of who you are supposed to be.
Don't let this happen. Be sad. Be sad until you are not sad anymore.
2) Do things in the middle of the sadness.
This is in conjunction with #1. Be sad, but do things.
My most successful heartbreak was difficult, but bearable because I DID things. I went to the bookstore and bought a few books (albeit sniveling with puffy eyes and tissue in hand). I hung out with my cousin and her dog. I cried and she listened. I listened to sappy boy-band music. And I made tea and watched Harry Potter. Like, a lot. Basically everyday for a solid month.
But, shit. It worked. I didn't tear into the night, ducking in and out of corners just trying to survive without sadness finding me. I accepted the Great Sadness and cried when I needed to and read books when I felt like it and slept when sleep was the only thing left to do. Be good to your heart.
3) Repeat, repeat, repeat: The depth of your sorrow and heartache do not reflect the quality of the person (or situation) you are mourning.
This is perhaps the best thought to ever come out of my brain, if I do say so myself. Because it is universal and true.
A few years ago, someone convinced me of a pretty gigantic lie. This person was cunning and quick and one step ahead of me most of the time. The lie was so deep and so great that when it was exposed, I was shocked into numbness. I literally thought that I would never be the same.
And for a long while, I wasn't. Even now, the scar is still there, profound and heavy. Sometimes, I still feel guilty that I allowed all this pain into my life. Sometimes, I get angry that I can't erase the wound.
But then I remember how insignificant this person is to my well being and that there were demons on the other side of the transaction that had absolutely nothing to do with me. That the depth and endurance of pain that was rendered is neither a tribute nor a torch. And that the level of dishonesty I witnessed has everything to do with their character and quality. The scar that was left could be described as significant. But this person is not.
It's that simple.
4) Own your stuff.
This is not a new idea, but it is painfully truthful. The lowest common denominator in all of your failed relationships is you. (Ouch… I know).
Should we recap? The connecting factor, the cog in your wagon wheel, the nucleus of your social group is you.
Are you ignoring what society likes to call 'red flags'? I know I was. Are you falling in love with someone's 'potential'? Yep, also me. Are you choosing to ignore your own needs for fear of stirring the pot and making things awkward? I've been there too.
And at some point, that all has to stop. YOU control your own little world. YOU, lovely and fantastic you, get to decide and participate in your own joy. And if that means breaking your OWN heart… Do it. Your garden needs to be weeded in order for the roses to survive and sustain.
So, now what?
Your heart was broken and your time has passed and you open your window and you look at the sun and remember that life. moves. forward.
You also remember that ultimately, the most important relationship you can have is with yourself. You love yourself and you love your heart and you move along knowing that next time, you'll do better by it.
This heart of yours has finite beats, my friends. Give it time. Give it love. Let it break.
But most of all, be a champion for its healing.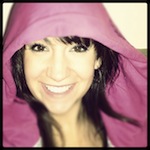 About the author:
 Aubrie is lucky enough to married to the coolest dude she's ever known. She's a kick-ass auntie, a proud sister of two brothers, and great friend. She loves 90's R&B music, dogs, punctuation, drinking wine out of mugs, using slang in everyday conversation, and her ballin'-ass 2 year old nephew.
By day, she works in Finance. She is a writer by hobby and ballerina by years of painful training. Get more from Aubrie at her awesome-tastic blog, The New Montgomery. 
[Image by .bravelittlebirds]
related

posts

« Feeling Stuck? Invest in Yourself You Say You Want Happiness, But There's Something Else You Want More. »