Valentine's Day is a hoax.
But then again, so's just about everything that our popular culture glorifies. Fame, success, the fairytale romance – the insane-balls notion that we can find anything we're looking for anywhere out there at all – it's all a ridiculous hoax.
Regardless of our relationship status, we might as well all be walking around with ginormous signs on our heads that read "SEEKING."
"SEEKING (completion in) MY OTHER HALF".
"SEEKING (happiness in) APPROVAL FROM OTHERS".
"SEEKING (fulfillment in) ALL THE WRONG PLACES".
Because in reality, guys, consciously or not, we're all desperately seeking just one thing – that person, that thing, that experience or realization – that will finally fill that void.
You know, that void – that great & lonely emptiness, that something-that's-missing.
For all my life, I searched to fill it – and not just to fill it, but also not to feel it, for the absence of that-thing-I-could-not-name was too painful, too intense, to face on my own. It was a place – no, the place – I dared not, could not go.
♥ ♥ ♥ 
And so I filled that void – or at least, I tried.
I tried in many ways.
I tried to fill it with others – asking, expecting, needing them to fill it for me, to make me complete.
"Fill me up, make me whole, tell me who I am," I cried. I came to believe that I needed another in order to fill the void, in order to experience my self. I became consumed, needy, desperate – completely and utterly dependent.
♥ ♥ ♥
I tried not to fill it with others – withdrawing, distancing, pushing away – protecting myself for fear (no, certainty) that they could not, would not, fill that emptiness within me. I came to believe that I did not need others, that I was just fine on my own.
So instead of filling it with others, I tried to fill it with perfection, with performance, with achievement. I became detached, distanced, numb, & fake. Beneath the surface, I felt alone.
♥ ♥ ♥
From one side of the pendulum to the other I swung – from clinging to pushing away to clinging – until one day I realized that
One could not solve the problem of the other.
In fact, one could not solve the problem…
At all.
Each could shield me from the pain of the emptiness, the void… from moment… to moment…
to moment.
Each could momentarily keep me above the surface, out of that  g a p i n g  h o l e  .   .    .
& yet not one of them could
ever
fill it.
What could?
♥ ♥ ♥
One day I realized
Love.
Love can.
Not the love that loves you when you're smiling but runs when your lip begins to quiver & your eyes begin to well. Not the love that needs you, traps you, entangles you. Not the love that numbs you. No, not the love you've known till now.
Neither of these. None of these.
Instead, the love that frees.
The love that's there with you when you're at your lowest, your neediest, your most vulnerable.
The love that loves you — no, delights in you — in your (perfect) imperfection, in both failure and success.
The love that's with you no matter what. That knows you inside & out. The love that's here for good.
& Just as you're reeling in the pain of never having known this love,
Just as you're hit in the gut with that void you've been avoiding your entire life,
Just as you're sucker-punched with the pain of the-absence-of-that-thing-you've-never-known,
You realize that you've known it always.
♥ ♥ ♥
♥ ♥ ♥
♥ ♥ ♥
& So this Valentine's Day, I propose a radical notion: That we stop trying to fill our voids with the things that will never fill us up.
I propose that instead, we fill ourselves up & over-the-brim with something else: with the love that will bring us home,
with the love that will free us,
with the love that will allow us to truly love others.
This Valentine's Day, I asked you all to create Valentines for yourselves, and you beautiful people delivered.
I've shared a select smattering of this truth and joy and love below – enjoy.
I'd love for you to make one for yourself, too – and if you'd like to share it, you can go ahead and Pin it (lemme know and I'll repin!) or post in on my Facebook wall or Tweet it my way.
♥ ♥ ♥ ♥ ♥ ♥ ♥ ♥ ♥ ♥ ♥ ♥ ♥ ♥ ♥ ♥ ♥ ♥ ♥ ♥ ♥ ♥ ♥ ♥
The Unlost: Valentines To Ourselves
♥ ♥ ♥ ♥ ♥ ♥ ♥ ♥ ♥ ♥ ♥ ♥ ♥ ♥ ♥ ♥ ♥ ♥ ♥ ♥ ♥ ♥ ♥ ♥
Therese's Self-Valentine:
Therese writes right here on this site, The Unlost. She enjoys chocolate and fine wine. And also, cheap wine, because who can really tell the difference? This past weekend, Therese proudly joined the ranks of The Pinners and has been learning to pin-pin-pin all weekend long. Given that this is an especially pinny project, please help Therese share the love with the world by repinning your favorite self-Valentines from this post. Why? Because they're worth pinning, and because this love is worth sharing. Visit Therese's brand new Pinterest page right here.
"Messy Heart & All"
Neediness and all. Imperfection and all. Anger and grief and loneliness
& all.
All of you & all of you & all of you.
I love all of you.
Emptiness and all. Fear and weakness, insecurity
& all.
Messy heart and all,
I love all of you.
You are…
Unimaginably worthy, infinitely valuable, incredibly loved.
Not because of this or that or this.
Not not because of this or that or this.
Just because.
Messy heart and all.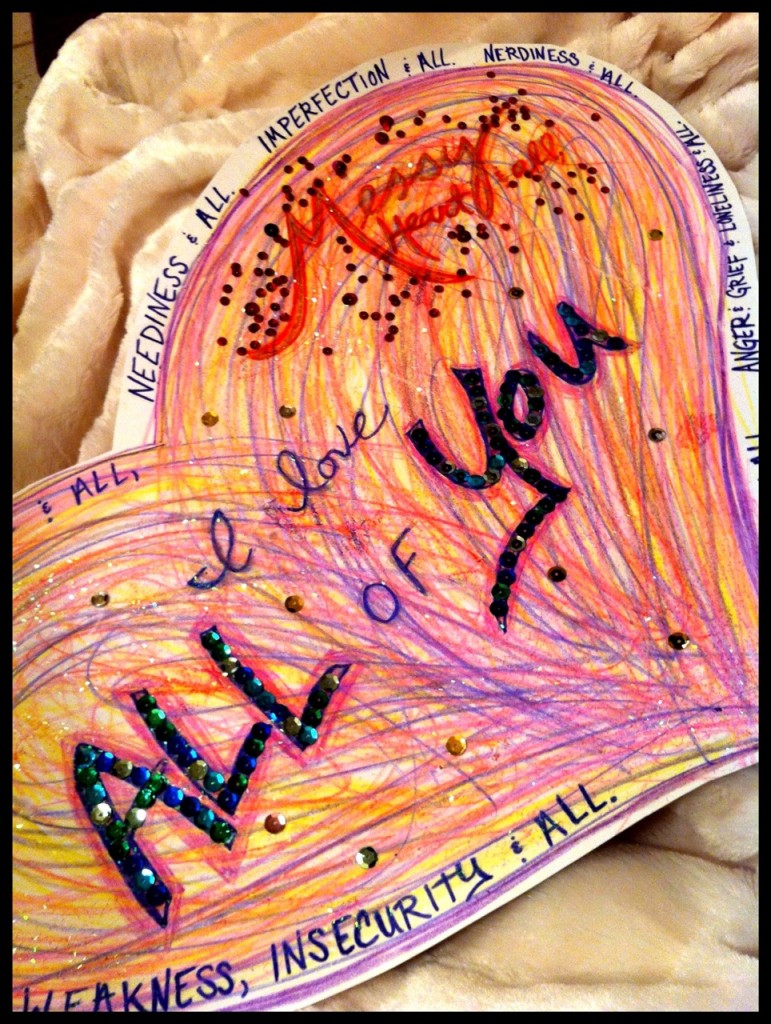 ♥ ♥ ♥
Mike's Self-Valentine:
Mike has chosen to remain semi-anonymous. Suffice to say, Mike is a deliciously worthy morsel-of-a-human-being, & that's just the way it is. No, I'm not a cannibal; I just felt like saying "morsel."
"My First & Last Love"
For two years I have struggled to accept my own love. I denied it because I felt I did not deserve any love. I tried to fill the void by placing it on others. I realize I must fill my void with my own love & self worth. I may then love others the way they should be loved.
My first & last love…
is self love.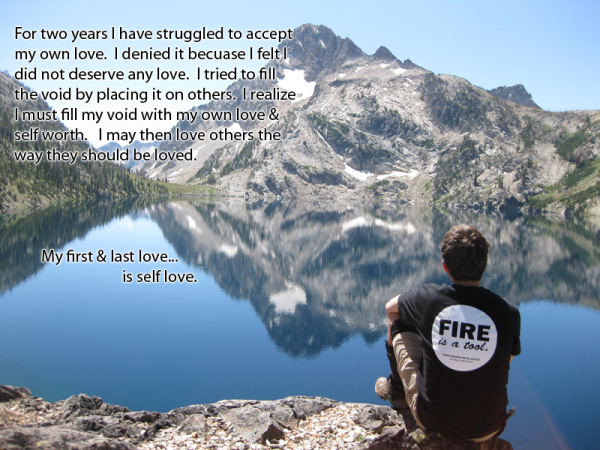 ♥ ♥ ♥
Bianca Cintron's Self-Valentine:
Bianca Cintron is a creative, amaze-balls 25 year-old who writes beautiful poetry on her blog, Never Surrender Your Soul.
"Dear Me…"
you amaze me | always have | always will
beautiful | confident | full of life
never compromising | always striving
those words you left | scrawled on the floor
were never for him | nor the rose | nor the love
every moment | when you said "i love you"
what you really meant
was "i love me"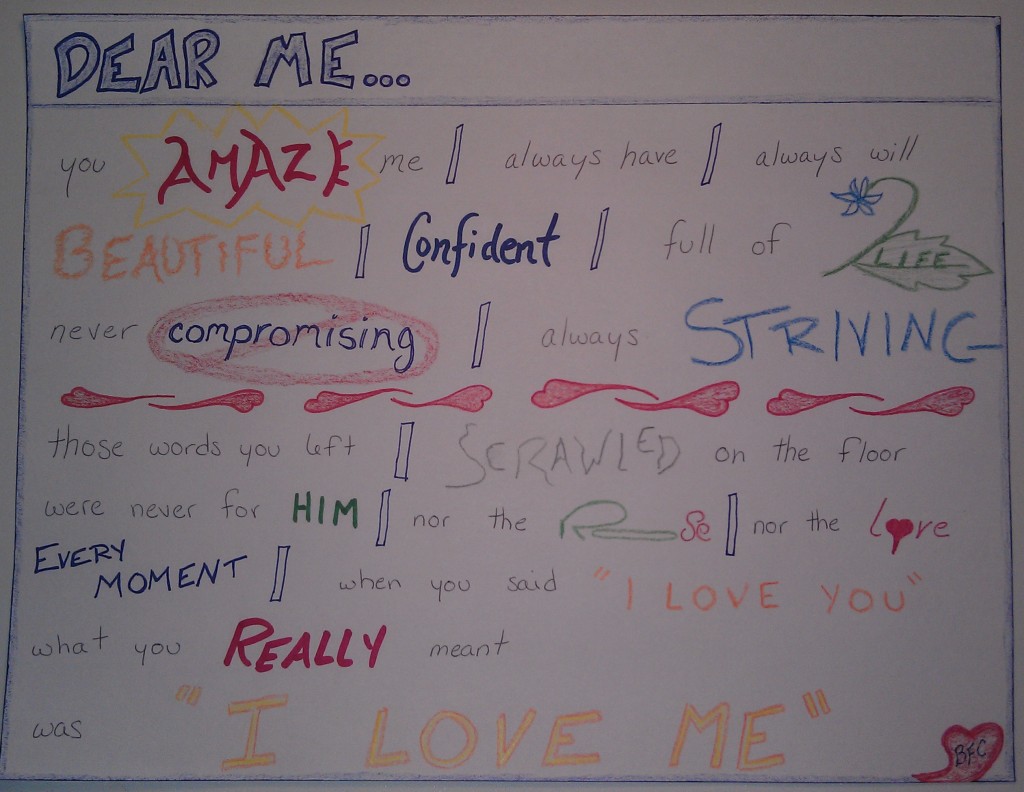 ♥ ♥ ♥
Alexandra's Self-Valentine:
After hitting the 30 milestone, Alexandra decided to sell her crap, screw conformity, and travel the world. Today she's been living out of a backpack for almost a year. WOOHOO! She shares her stories on her blog, Fluent in Frolicking.
"The Courage To Laugh at Conformity"
I love you for your courage. The way you bravely travel this strange glorious world of ours with no fear. I love that you laughed at conformity to make yourself happy!
I love you for your body. It is strong and healthy. I love the way it jumps for joy and frolics at sunset!
You have given me the best year of my life and I look forward to our future adventures!
I ADORE YOU!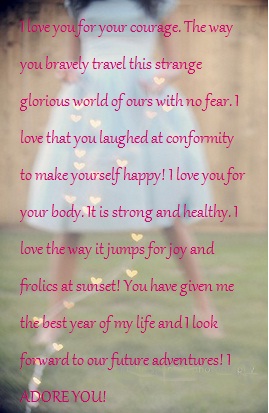 ♥ ♥ ♥
Aletheia's Self-Valentine:
Aleitheia is the realest, rawest, & most uplifting chickadee I've ever not-met in person. Plus, her name is super cool. Check out her inspiring writing and art over at [according to aletheia] (or be sorry).
"I am Worth Celebrating!"
A month:
Yes, I dated this guy for a month, but the Lord has been courting my heart forever, and that's truly something to celebrate. And although I still hope and dream that someday a month will turn into 'the rest of my life,' I am thankful for this month and I am even more thankful for the time I have taken after this month to celebrate how well I lived in that month: I showed up, I offered myself, I was honest, I extended grace, I allowed myself to fail, I owned my shit, I invited others into the process, and at the end-of-the-day, I held loosely to it all, more easily done on some days than others. But seriously, let's offer a toast to this time, for this time is worth celebrating.
And on this Valentine's Day I too, am worth celebrating.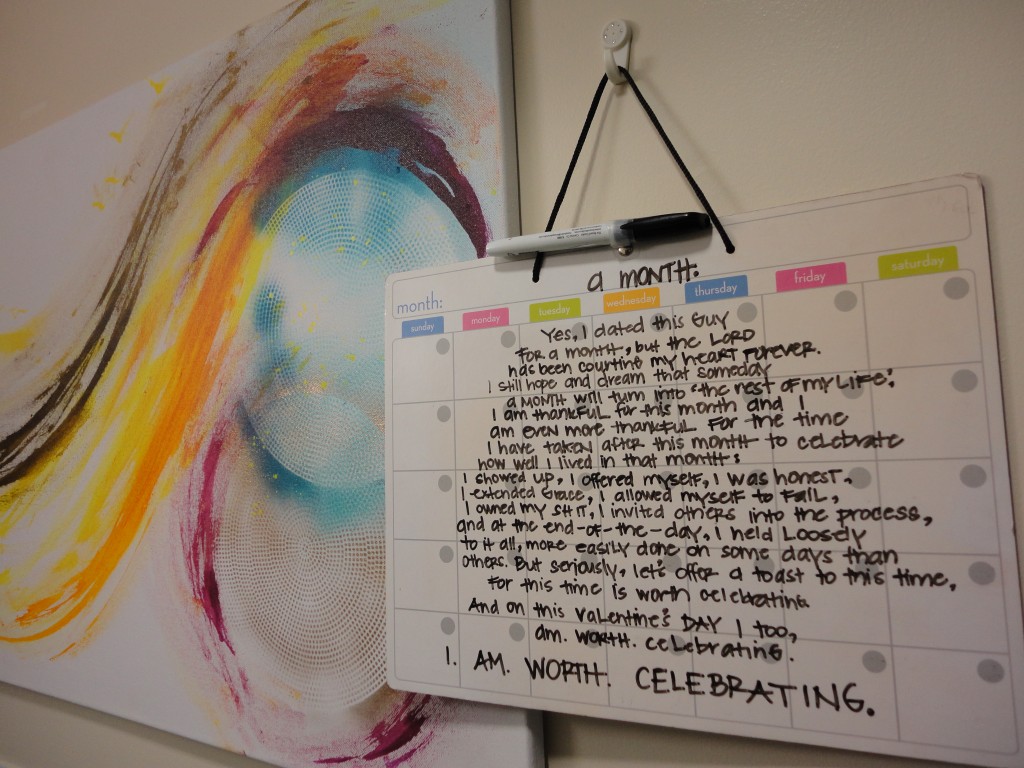 ♥ ♥ ♥
Anonymous Self-Valentine:
While the world may laugh at you because you are different, it's ok to laugh that they are all the same.
Have some patience and just like the last time you thought you'd be lonely forever, something always props you up and makes you the best Valentine ever.
[Note to anonymous: You already are the best Valentine ever ;-]
♥ ♥ ♥
Val's Self-Valentine:
Val is incredible for many-a-reason – for example, she's a kickass coach over at aspire&grow coaching. Val is the most incredible, however… simply because she is. Yep, just because she is the one & only Val. Cheers to her VAL-LY GOODNESS!
"Val, You are Incredible."
You are a kick ass sister. You're hot! You can lift a lot of weight (and win medals for it). Your bread is delicious! People love spending time with you. You know how to cook AND how to repair a home. You can sew. You know how to ride horses. You are funny in a way that makes some people think you are serious. You know all of those wedding dances. You love dog shows and know all the breed names…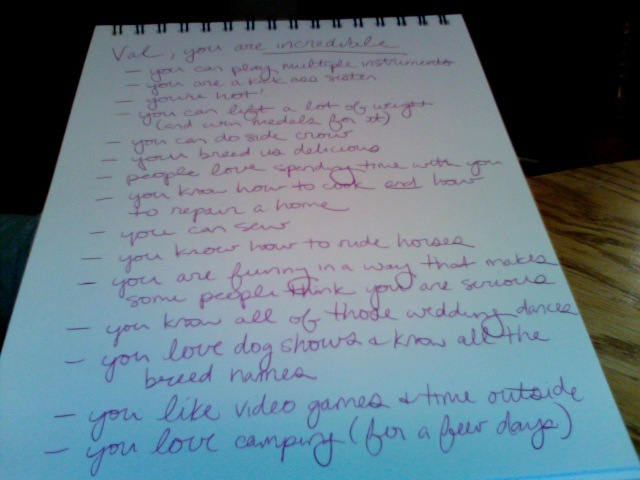 ♥ ♥ ♥
Valentine's Day is a hoax.
The love we seek is not — never has been — outside of ourselves.
The love we seek is our own,
And yet we are not — never have been — on our own.
# # #
[Image by Ko_An]
related

posts

« What a Burrito Man Can Teach You About Finding the Work You Love Shattering The Illusion of All Alone: Depression, Suicide, and Why The World (Not You) is Effing Insane »