Wanna know how to get any guy (or girl), guaranteed?
Easy, you've just gotta be SUPER hotttttt. Or rich. Or famous or charming or blah-blah-blah.
Right??
Wrong.
WRONG.
W R O N G ! ! !
By the time you finish reading this article today, you'll be at least 10x smarter. This is because you'll know two very important things:
1. Seeking approval from others is like riding a rollercoaster of pure suckiness.
2. There is a better way to find love…
So lets get started, awesomeness!
THE ROLLERCOASTER RIDE OF LIFE
Most of us live our entire lives in pursuit of external validation, in pursuit of someone else's standard, someone else's stamp of approval.
"Am I good enough?" we wonder, and so we search around us for others to give us that answer.
The only problem?
In doing so, we give others the power to define us. We become trapped on a never-ending treadmill, a vicarious rollercoaster of doom! (Yes, I said doom!)
It doesn't matter if you're at the bottom or the top at any given moment– riding this rollercoaster ain't no fun.
THE BOTTOM OF THE ROLLERCOASTER
Sometimes we're at the bottom of the rollercoaster, and being at the bottom of the rollercoaster sucks.
We're getting rejected. Again. And again. And again.
We're getting ignored.
Maybe we're getting mistreated.
Whatever the case may be, being at the bottom of the rollercoaster makes us feel like worthless crap.
"I am not good enough."
"I am not valuable. I am not worthy of love."
"I fall short."
When we're at the bottom, we believe that the solution is– well, duh, to be at the top. We want to become hotter or "cooler" or richer or funnier or smarter or [blah blah blah].
I mean, that is the answer, right?
Let's investigate.
THE TOP OF THE ROLLERCOASTER
If we're "lucky," we sometimes find ourselves at the top of the rollercoaster.
I LOOK LIKE A SUPERMODEL!
I IS IN A MUSIC VIDEO!
I WON AN AWARD!
GUYS WANT ME AND GIRLS WANT TO BE ME!
For awhile, this feels pretty damn good.
The only problem?
It's a double-edged sword– while the validation feels good, it's still coming from outside of ourselves; our inflated sense of self could crumble and fall at any given moment.
If we believe that this external validation is what defines us, then we're left scrambling to stay on top, never resting, always having to prove ourselves:
"I am only worthy of your love if I live up to this ideal, if I put on this front."
"Beneath the surface, beneath this front, the real me is not lovable."
"Who I am, just as I am, is not enough."
"I am only valuable as long as I have [my body, my status, my money, fill-in-the-blank]."
In short, the top of the rollercoaster is painful, too– to feel as if you must constantly prove yourself, to live up to an ideal, in order to earn a love that is false. To never be able to rest, to continuously be at the mercy of your environment.
Is there another answer, a solution to this vicarious rollercoaster of life?
I believe that there is.
THE ALTERNATIVE
There is an alternative: an intrinsic security that comes from within. A security, a worthiness, a love, that is independent of external influences. A security that does not fluctuate– a love that is constant.
What must you do to get this security, to earn it, to deserve it?
Nothing.
Absolutely nothing.
You already have it.
You have already earned it, simply by being.
You– just as you are, just who you are– you are more than enough.
Hard to believe?
Maybe–
that is, until it's not.
Until it becomes something that you don't have to try to believe, and it simply becomes something that is– just as the sky is blue and the grass is green, you are.
You just are, and that's just the way it is.
Until you just know it deep down, with each and every breath in and every breath out:
"I am good enough.
I am worthy.
I am.
Simply… because.
For no other reason than because 
I am."
And if you can't believe it for yourself,
then believe it because I said so.
Take my word for it.
"[Insert your name here], you are amaze-freaking-balls– just as you are."
YEP, I said it!
If you can't believe it for yourself, maybe you should write it on your forehead and shout it out loud every time you see yourself in the mirror.
A-m-a-z-e-b-a-l-l-s.
YAYUHH!!!
Beyond external validation
or lack of external validation,
Beyond this
or beyond that
You
are
You,
loved beyond measure,
worthy from the inside out,
exactly,
exactly,
exactly
as you are.
And once you come to know this, other people will begin to notice the beauty
r a d i a t i n g
from your soul and
awesome people will
start drawing to you like a magnet.
"There's just something about that girl (dude)!"
they'll say.
And it'll be true.
& it always has been true–
you just didn't know it till
n  o  w  .
<3 <3 <3
Love,
Therese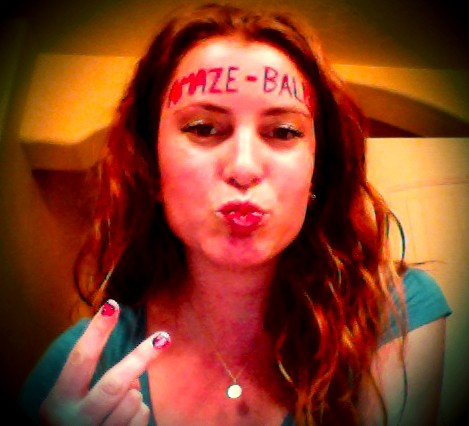 Oh, and p.s. I lied.
This is NOT guaranteed to get you any guy or girl.
For example, this won't get you the following:
d-bags
gold diggers
disrespectful a-holes
or
anyone who won't give you the time of day and cannot see how AWESOME you are
Why? Because when you know your own amazingness, you refuse to put up with that crap!
HALLELUJAH!
# # #
[Image by o5com]
Free Unlost Gift Pack
Get our mini-kit for finding work you love, the toolbox for dealing with crappiness and more - plus weekly awesomeness in your inbox:
related

posts

« Answers are Overrated The Derek Zoolander Guide to Finding Yourself »