Truth be told, I'm not an extremely patient person.
I want my nonfat, triple grande pumpkin spice latte— and I want it now. I'd rather get hit by a truck than wait in line at the stupid grocery store. And when it comes to wi-fi, don't even get me started.
It turns out that I'm not too patient when it comes to love, either. "Just have patience," people tell me. "The perfect person will come into your life at the perfect time."
Sometimes I want to kick these people in the face.
The thing is that I can't, though, because they're absolutely right.
Today, let's get a few things straight: (1) When the time is right, your person will come into your life (please don't kick me in the face, K thanks?), and (2) When your person does come into your life, (s)he will not save you, complete you, nor make you whole.
1. WHEN THE TIME IS RIGHT, YOUR PERSON WILL COME INTO YOUR LIFE
An aunt of mine just got engaged for the first time at the age of sixty, and I couldn't be happier for her.
Yes, sixty.
For all of those years that she'd been on her own, George was out there for her all along.
In a way this makes me feel like a really big wuss, because I'm not even thirty yet and I've only been single for about… oh, three months now.
But even so, sometimes fear starts to take hold of me, as do the habits of seeking and reaching that I've held my entire life.
"What if all the good guys are already taken?" I begin to wonder (which I know isn't true, because I've already met some wonderful guys). "What if by the time I meet my person, I'm too old to have kids? What if there's something wrong with me?? What if I'm gonna be alone forever?!!!" I find myself in a fearful frenzy, ready to seek and to grasp and to search at all costs, and at the same time feeling sure that this person I'm seeking doesn't actually exist.
But then perspective quickly washes over me and I realize how completely ridiculous these thoughts really are.
"Ye of little faith," I suddenly find myself thinking (isn't this a quote from the bible or something?), "why do you doubt?"
Something within me begins to chuckle at the ridiculousness of it all, and my fear and doubt are instantly shattered.
The next day I serendipitously run across a site called TMFS (To My Future Spouse), run by the wonderful and insightful Corey Copeland. It's a place where people can post anonymous notes to their future spouses.
"To My Future Husband," reads the note at the top of the page:
I will no longer search for you at the clubs, on the streets or at the mall. You are so one of a kind that [Life] will bring you to me when the time is right, whenever [She] so desires.
Something within me instantly relaxes, and in this moment I know that this is true. It's not up to you or I when the time will be right– it could be in ten days, ten months, or ten years– but we can rest safely in the knowing that we're always taken care of. We can learn to relax into the perfect mystery of it all.
Take a deep breath, my friend. Trust. Have faith. Your person will come when the time is right— no questions about it. You are OK. Everything is in perfect order.
2. WHEN YOUR PERSON DOES COME INTO YOUR LIFE, (S)HE WILL NOT SAVE YOU, COMPLETE YOU, NOR MAKE YOU WHOLE
When you begin having faith that your person will show up at the perfect time, something funny happens:
You realize that you're OK on your own, after all.
In fact, you realize that you're more than OK on your own, and that you don't need anyone to complete you.
You begin living from your own true center instead of seeking some center that lies outside of you. You stop looking everywhere else for happiness and you start being happy right where you're at.
Sure, you might still miss the companionship or the other things that come along with being part of a couple. But even so, you are overwhelmingly content to be right here, loneliness and all.
And if you're like me, you realize that you aren't quite ready for love yet, anyhow.
If I were to write a note to my future husband today, it'd go something like this:
To My Future Husband:
For years, I've searched for you in bars, in classrooms, and in Brad Pitt's Malibu beach house (Brad? Are you in there??). I've hoped that you would swoop in and magically complete my life, and I've imagined that I couldn't be happy until I found you.
But then I realized that this isn't a fair thing to ask of you. Why should anyone hold the burden of making a half-person feel complete, of holding me up as if I couldn't stand on my own? Why should a single person be wholly responsible for the happiness of another? That's a big task for any person to take on, one that's bound to result in a muddled entanglement rather than in a love that's pure & free & real.
And so I've come to realize that I won't truly be ready for you, or be able to give you what you deserve, until I'm able to gain a sense of completeness on my own.
For the first time, I'm ready to stop seeking completeness in being one-half of a whole. I'm ready to start being that person I'm meant to become, the one who's whole and complete on my own and who you can't help but love— that person who you deserve.
For the first time, I think I'm OK on my own— suckiness and all.
When our time comes, I'll be ready. And when we do find each other, you won't complete me or make whole a severed half. Instead, you'll add a new and beautiful depth to the completeness I already have.
Love,
Therese
p.s. I hope you are hot.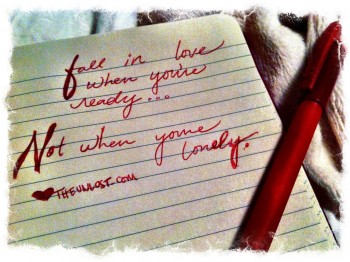 As I wrote this post on Friday, I came across a blog post of Corey's entitled "Being Single is Okay, OK?" His words mirrored my thoughts exactly:
"Being single for a season, so that we can be worked on and molded into something lovely and whole, is wise and responsible. Once we do meet the lucky individual who gets to marry us, wouldn't we rather be that rounded, emotionally stable, fully evolved person they deserve?
I'm content in knowing that I can be fulfilled in God and in my own path without having to desperately cling to another beating heart."
Finally, here's the kicker:
…we can breathe easy in knowing that, while we may ache for the completion of another, being single is actually OK. Within those somewhat lonely nights full of painful growth, we are being made whole.
You won't often hear me say this about anyone, but Corey said it better than I ever could have.
And so with that, my friends, I'll bring this post to a close.
# # #
[Image by Photo Javi]
related

posts

« 9/11 Anniversary Can Remind us to Reflect Upon Our Lives 3 Things No One Tells You About Finding Your Life's Work »