Below I've listed a few resources that have helped guide me through my own process of discovering and living out my life's path. Check 'em out; they might be just what you were looking for.
(Disclosure: Each link below is an affliate link – I may get a commission if purchase one of these products. Please note that I only recommend products from entrepreneurs and companies I know and love myself, so you're in good hands.)
Books I love:
I've created a library-list of the books I live and breathe by — check them out right over here in the "Unlost Library":

Online E-Guides & E-books:
(Click on each image for more information)
Free Mini-Kit for Finding the Work You Love: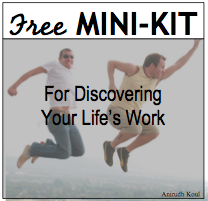 How do you discover the fulfilling, meaningful, passionate work you were built to do?
Not how you think.
Get The Unlost's free email mini-kit for surprising and little known secrets to finding your truest career path. The mini-kit is free — all you have to do is tell us where to send it:
XoXo with lots of love,
Therese & The Unlost team
# # #