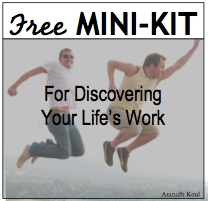 How do you discover the fulfilling, meaningful, passionate work you were built to do?
Not how you think.
Get
The Unlost's
free email mini-kit for surprising and little known secrets to finding your truest career path.

*Spammers are douchey. I'm not.
About the Author

My name's Therese Schwenkler, and I am not really all that cool.

I like to read nerdy nonfiction books.

I have 24 3,132 followers on Twitter (most of them are spammers).

And I'm an accountant ex-accountant on a journey.


WHAT READERS ARE SAYING…
"My friend calls her
White Oprah."
- Kelsey O.
"Her articles are
like crack
. It's what the world needs. (Her message...not crack.)"
- Alicia B.
"@tschwenkler is college success meets
@Jenna_Marbles
! Love it!"
- Isa Adney of
Community College Success
Grab a badge for your site