So if I haven't already, today's the day I admit that I'm a total freaking nerd.
Why?
Um, maybe because on Friday night at 10 PM I was at home answering emails to my readers?
Or maybe because while driving home from work the other night I erratically decided to switch three lanes all at once like a madwoman, almost getting myself hit by that yellow Dodge Neon because– um, because I'd thought of a brilliant idea for a blog post and I just HAD to write it down before it drifted away and was lost forever. (Note to self: Learn to use Siri.)
Or gosh, I don't know, maybe it's because last week I pretty much admitted that I'd rather write this blog than hang out in a beach cabana with Brad Pitt for the rest of my life.
The thing is, guys, that somehow, some way, for some weird reason, this is it.
This is me.
Somehow, I can't not do this— I can't not answer your emails, I can't not stay up till 3 am finishing this blog post, I can't not consume my life with and pour my heart into– well, whatever the heck this Unlost thing is.
Do you wanna know what the highlight of my day is?
You guys.
Like, I literally laughed out loud (LOL!) with delight the other day when a reader from Belgium ended her email with this statement:
"… Maybe your little messages on your website can help me to find what I really want. So, if that will be the case (and oh please, let that be the case), I will let you know and buy you some really fancy Belgian chocolate and beer (the only two things we are known for) and thank you a million of times."
Chocolate and beer, baby! How could that not make my day?!
But seriously! How could all of you awesome, interesting, passionate, insightful, amaze-freaking-balls people not make my day??!!
Every day I'm lucky enough to get to know more of you who are asking the same questions I am– questions like "What the hell should I do with my life" and "Who the heck am I" and "Why is sh** so crappy sometimes?"
Every day I feel honored that so many of you have chosen to share your hearts with me– your hopes and your dreams and your struggles– that you've been courageous enough to open up your souls and your thoughts and your Facebook feeds to me. (Yes, it does take courage to allow me into your News Feed. Speaking of which, if you're feeling especially ballsy today you may go ahead and click here now.)
I've come to know beautiful-hearted people like Aletheia who make inspiring art like this: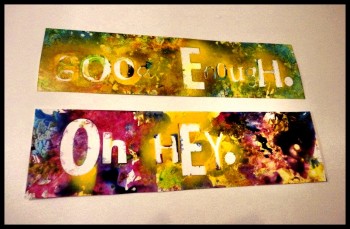 And bold questioners of life-as-it-is like Sarah Goshman who pause in the middle of Giants games to ask much-needed questions like this:
"Haven't we been here before?"
Then there are dudes like Chris Hughes who juggle (sort of almost) naked and mind-twins like Alicia and shit, why can't I just name you all?
My friend Kelli recently wrote an AMAZING post about The Unlost (<– MUST read!) on her super-fantastico blog, Leopard & Lavender, in which she refers to The Unlost as a "community."
BINGO.
That's it, guys.
The Unlost is not just a blog.
It's not just a website.
The Unlost is a community.
And, well, here's the kicker.
I can't get this crazy thought, this feeling, this knowing out my head that it's supposed to become something so much more than it is right now– something so much bigger. Exactly what that thing is supposed to look like, I'm still in the process of defining.
But here's what I know for sure:
I know that I want to pour my whole entire self into– well, into making this into something great.
I know that I don't want to give it some fractioned percentage of my attention anymore– not just my after-work time or my weekend time or whatever time's left over after spending 40+ hours per week in a cubicle just to pay for my house and my clothes and my vacations and to-put-it-totally-freaking-bluntly a life I've come to realize I REALLY DON'T EVEN CARE ABOUT ANYMORE.
What I know is that I am NERDILY FREAKING CONSUMED, (un?)questionably to the point of insanity, with building and growing this community that brings me to life.
Which is why come April, I'm gonna leave my job, I'm gonna leave my house, I'm gonna leave my dogs and my hometown and almost my entire life as I know it–
And I'm gonna pack my life into a Prius and drive around the country meeting you guys.
I'm gonna spend my days writing and strategizing and creating while sitting in random little coffee shops in random little towns, wheresoever this crazy path might take me.
And I'm gonna spend my nights connecting and sharing and learning and being (and maybe drinking a vodka-soda, too. Because why not?).
In short, I'm gonna devote every piece of my self into building this community into– well, into whatever it's meant to become.
Sounds totally effing crazy, right?
YES, which is why I almost wanted to chicken out and give you some bullcrap reason for my departure, like "I just want to wander for awhile" or "I just want to go on an adventure."
But I couldn't, because that's not it, guys. That's not why I'm doing this– not because I'm ridiculously sick of my "real job" or bored of my hometown or because I have some insatiable wanderlust or need for adventure. Not because I need a break from the "real world" or because I'm feeling totally lost. I've done those things before and they've been grand, grand adventures. But this time, guys, that ain't why.
This time it's so much harder to explain.
This time it's because I've been called to create something. It's almost less of a choice than it is a weird command.
This time it's because I can't not.
And I'm scared shitless that no one will get it, that no one could really ever understand, that I'm just some crazy weirdo lunatic. I'm f***ing terrified to utter this inexplicable dream of mine out loud.
But I figured that, hell, if anyone could ever get it, it'd be you guys.
So f*** it, there you go.
[Interjection: My apologies for all the non-swearing swearing (is it still considered swearing if you put little stars in the f***ing swear words?!).]
Anyhow.
"Therese, what about money? What about having a plan? Aren't you taking the huge leap that you've warned us against?"
Chuckle chuckle chuckle, my friends. All valid questions… which I shall answer to in time.
For now, if you would be so kind, answer me one (or all) of these questions:
1) What does The Unlost mean to you? How would you define the value that you receive here?
2) How could I best serve you? What one thing could I offer you that would truly change your world?
3) Seriously, WTF?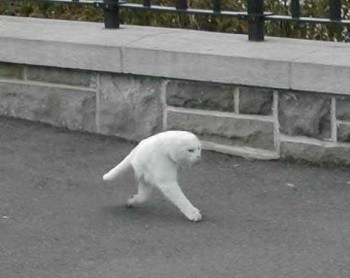 (Haha, just kidding… I think. I mean, answer that if you want to. I guess.)
Luvya!!
xoxo
Therese
# # #
related

posts

« It's Ridiculously Simple: How to Find Your Life's Freaking Purpose in One Minute or Less THE DECLARATION OF REAL (& the CRUSHING of the World of Fake) »