He might've been an engineer — but he wasn't.
I watched as he walked toward us across the sand, wearing a blue Hawaiian shirt and a wide-brimmed straw hat. He moved briskly and was able-bodied, I noticed, despite being — perhaps seventy years old? — I guessed. I'd have easily mistaken him for another vacationer if it weren't for the lanyard around his neck and the stack of flyers he carried with him.
"Hi girls," he smiled, his shirt whipping gently in the breeze. "How are you doing today? First time in Costa Rica?"
Yes, we nodded.
"Welcome," he said, reaching out his hand to introduce himself. "I'm Tom. Have you done any activities yet? Kayaks? Horseback riding? Estuary tour?" he inquired.
"We've already done the river tour with the crocodiles," I said.
"Yoga on the beach?" he asked.
He must've been reading my mind: after nearly nine days without my regular yoga practice, my body and mind were beginning to wilt. I'd actually been scouring the town for a nearby studio. And yoga on the beach? Even better. That's something you certainly can't do in Portland, Oregon.
"When's the yoga class?" I asked.
"Right now," he said, setting his bag down on the sand.
"Um. Ok… who's our teacher?"
Tom swept off his straw hat and placed it on the sand as he began to unroll his mat in front of us.
"Me, of course," he said, as if there had ever been any question. "I was once a monk in Thailand, you know? I did yoga every morning."
I could see it, actually — the monk thing. Tom had lifted his hat to unveil a softly shaved head, and there was a depth to his blue eyes that could only have come from years of sitting meditation.
How could we say no?
And so just as the sun was about to set over the Tamarindo Playa, my sister, my mother and I began our private yoga class on the beach.
Later in the week, Tom took us on a kayak trip to explore a nearby volcanic island that was rich with piles of worn white conch shells and lively tide pools full of brittle starfish, crabs, and sea urchins. We drank fresh rainwater from smooth, concave pieces of conch shells, watching as throngs of hermit crabs scraped coconut meat from the insides of the brown mounds that he'd cracked open on a rock.
"How long have you been leading tours in Tamarindo for?" I asked.
"Five years," he replied.
"And before that?"
"I was trained to be an engineer, but I left Argentina to travel the world when I was 27. I never came back," he said, looking wistfully out over the horizon.
He told the story of how he'd lived as a monk in Thailand, stayed in ashrams in India, and built up his own one-man tour guide operations in Fiji, Panama, and now, Costa Rica.
"Some people say they want to travel the world, and then they'll come back home and become more serious," he said. "But I'm almost seventy and I never came home to get serious."
He laughed. I laughed. We all laughed together.
"Maybe seriously living your life is more important than becoming 'serious,'" I couldn't help but think to myself.
This man had lived his life on beaches and in ashrams, spending his days in a waking meditation with the sun on his face and the sea at his feet. I'll bet he makes less money working as a tour guide than he might've as an engineer. Maybe his family and friends thought he was crazy to leave.
But did it really matter? Tom was living Tom's life, and he wasn't about to stop.
His story reminded me of something important: F what anyone else thinks. This is your life — no one else's. If you want to travel the world and never come back, do it. Want to be a monk in Thailand? Go for it. How about selling kayak tours on the beach? Do ittt. "Normal" is always relative — always. No matter what you feel called to be or to do, I'll guarantee you there are other people who are already doing it and calling their lifestyles "normal."
Over the past several years, I've been blessed to meet amazing people: people who've quit their jobs in cubicles to start organic urban farms. People who've started their lives over with nothing but $10 and a laptop. People who've left careers in law to live wholehearted lives in Mexico or left jobs with Google to pursue makeup artistry. People who inspire me and bring me to life every day.
A friend of mine recently moved to Paris and wrote home to tell me about a ninety year old American lady she'd met in her French class. "I always wanted to live in Paris and learn to speak French," the lady had said. And here she was, doing it. What a great reminder that it's never too late to become who you are.
Each of us has the ability to shape our lives each and every day — it's all about what we decide is important and how we choose to spend the time and resources we've been given. Most of the time, the only person stopping us is ourselves. "The world will tell you who you are until you tell the world," reads a quote I've returned to again and again over the past years.
So who are you really? Are you ready to shed what's comfortable or expected in order to begin finding out?
Don't be afraid to give up what you think you're "supposed" to have, do, or be in order to embrace what actually matters to you and to become the fiercest, truest version of who you really are. Don't be afraid to stop being so "serious" and to start seriously living, whatever that might mean for you.
Rabbi Zusya, when he was an old man, said, "In the coming world, they will not ask me: 'Why were you not Moses?' They will ask me: 'Why were you not Zusya?'"
– Hasidic tale quoted in Parker J. Palmer's Let Your Life Speak
Tom could've been an engineer, but he's not.
I could've been an accountant, but I'm not.
You could've been a ________, but thirty years from now, you'd rather look back on your life and know that you ________________.
This is your life, dude. Shape it or someone else will.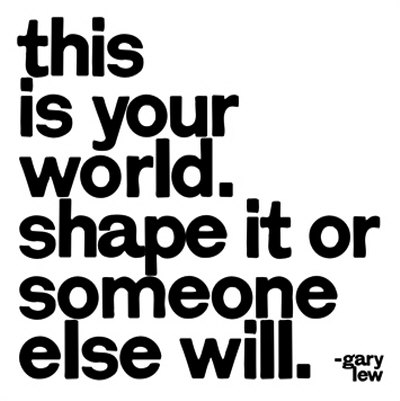 # # #
[Image by jenny downing]
related

posts

« On Perfectionism and Being Unperfect Feeling Alone This Holiday Season? This Post Is For You. »