A few weeks back, I announced that I'd be hiring a HO (Homework Officer– getchyer head out of the gutter!) to help me out with my new project.
After laughing for 45 minutes straight at the barrage of hilarious innuendos and email subject lines I received ("Why I'm Your HO"; "Is a HO that doesn't get paid simply called a SLUT?"; "Ho Fo Sho!"; "I would like to be a ho, please :-)"; "LEMME BE YO' HO!"; "I'm Your HO, Baby!"), I sat down and took a good looksie at the apps I'd received.
Lemme tell you, guys: THESE APPLICATIONS ROCKED MY SOCKS OFF.
I've written before about how even the best candidates can easily get lost in the crowd of applicants, and how it's no longer enough to be insanely qualified– instead, you've got to find a way to STAND OUT in a relevant way.
Today I'll show you how the best HO applicants did just this– and how you can apply these very same techniques to have employers eating out of your hands in no time, even if you're applying for a much more, ahem, conventional position.
[Warning: THESE TECHNIQUES WORK INSANELY WELL! In fact, I was so impressed by the quality of applicants that I ended up enlisting multiple people to help with the project, a move that was completely unanticipated.]
Today I present to you: 5 lessons learned from hiring a HO.
1. SHOW, DON'T JUST TELL
If there was just ONE thing you could do to blow an employer's socks off, this would probably be it. In fact, of all the (insanely qualified) applicants, only ONE did this, and I immediately knew she was my HO.
What did she do that no one else did?
Simple: she did the actual job.
What I was looking for:
- Someone to help me create homework documents for my course.
- Someone who could take my high level ideas and boil them down into simple, concrete, effective step-by-step instructions.
What she did:
- Created a homework document as her application.
- Took my high level idea of "hiring a HO" and boiled it down into simple, concrete, effective step-by-step instructions.
In other words, her application actually embodied the very nature of the work I was asking her to do.
See below.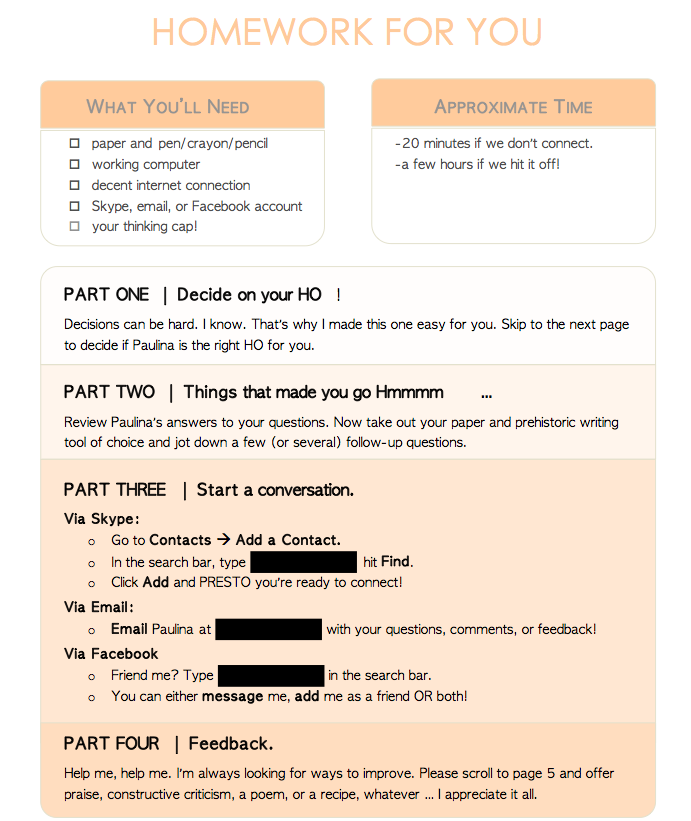 [See Paulina's full application here]
Genius, right? Paulina was pretty much hired on the spot. (I LUV MY HO!)
In a blog post for the Harvard Business Review, Michael Schrage argues that "Projects are the New Job Interviews":
Resumes are dead. Interviews are largely ineffectual. Linked-In is good. Portfolios are useful.
But projects are the real future of hiring, especially knowledge working hiring. No matter how wonderful your references or how well you do on those too-clever-by-half Microsoft/Google brainteasers, serious firms will increasingly ask serious candidates to do serious work in order to get a serious job offer.
No doubt, the best way to impress an employer is to actually do the job, and do it well.
But why wait for employers to ask for this? Beat them to the punch by doing it proactively, and watch them start knocking down your door.
If you're applying for a sales position, make a sales call to the employer (or post up a video– see tip #3 below) and sell them hard on why YOU are the best applicant for the job.
If you're a web designer, design something for them.
If you can't think of a feasible way to actually SHOW them your insaneballz skills in context, then do the next best thing: provide a portfolio of work you've done in the past (or provide specific and relevant examples) and explain how they relate to the position at hand. Hopefully you're doing this anyways, but here's a good example from applicant Louise Wo:
I've never created an e-course before but I have definitely done my fair share of whatthehellamidoing projects. These all required me to jump in nose-first and pray that I didn't crack my head open. All these experiences showed me that I am great at figuring things out and managing projects from beginning to end. Some of the things I've done:
2. LEVERAGE YOUR REFERENCES
Providing references is a standard part of the application process (durr), but what would happen if you went one step further?
I was super impressed by one applicant who proactively had his references contact me. By the end of the day, I'd received two emails on his behalf.
Not only did this show that people actually liked this applicant and were willing to help him out, but it also showed his level of initiative and kept him on the top o' my mind. Also, I'm lazy. Anything you can do to make my job easier, the better.
Another applicant actually had recommendations from references in the margin of her standard resume like so: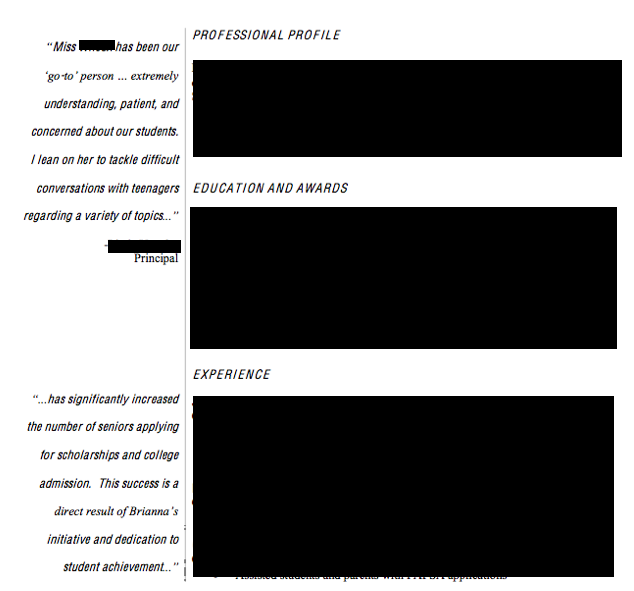 Now THAT is an awesome way to stand out, even within a more traditional employment setting.
3. CONSIDER A VIDEO RESUME
When employers look at a piece of paper, they get a very limited sense of who you really are.
This sucks, because even if you are totally awesome (which you most certainly are), your shining personality might be passed over before you even get the chance to come in for an interview.
One way to get around this dilemma is to post up a video resume of sorts.
Take one applicant, Mr. Izmael Arkin (AKA The 30 Year Old Ninja). Izzy's application was insanely impressive in its own right, employing many of the techniques I mention in this article. As convincing as it was, the video at the bottom really sealed the deal because it gave me a much better sense of the person I'd be working with– upon seeing Izzy on video and hearing him talk, I felt like he was someone I'd really get along with.
Check out Izzy's awesome application, including his video, right over here. I'll be working with Izzy on some yet unnamed aspects of the project, and I'm super excited to have him on board.
Rob Collins was another applicant who wowed me with a video resume. It was actually created for a potential IT client of his named "Xtravirt" (not for me), but I was impressed nonetheless. Check it out as an awesome example:
I immediately jumped to the (100% correct) conclusion that Rob was freaking amazeballs, and he's now helping me out with some major pieces of the project. [Note: Rob got the inspiration to create a video resume from Mr. Tim Brownson.]
4. KNOW THINGS ABOUT 'EM (& SUCK UP A LITTLE ;-)
There's nothing worse than getting an application from someone who justwantsajob but has no clue who the heck you are or what you're about. Do your research, guys– this is über standard advice, but it's really important. You wouldn't go on a date with justanyone before thoroughly Facebook stalking and Googling him first, right?
So why would you apply for a job with justanyone?
First, make sure the employer seems like a good fit. Second, let them know you're into them and that you know what they're all about. Be genuine about it. After all, there is a reason you want to work for them, right?! (Besides the paycheck, that is. Please say yes.)
Louise Wo showed that she knew her stuff and that she was genuinely into what I'm all about by linking to a blog post in which she'd mentioned The Unlost way back in the day:
… [Your e-course] is undoubtedly going to ROCK. I've been following your blog for awhile and I have tons of love for ya! Proof here.
I applaud your boldness in putting yourself out there and doing this whole Unlost thing to the max. It is so clear that this is your calling and it's awesome that you're going for it. WAY TO GO (seriously)!!
The amaze Ashley Brillhart (who created a "Make Me a HO" pinboard as a part of her application– LOVED IT!!) cracked me up and let me know that she was genuinely into mah stuff:
Your words are like a lightbulb. Not like the dim, energy savings ones (even though they are great for the environment). More like the really, really bright ones that hurt your eyes after you've been sleeping…. your words really seem to wake people up! ;)
Ashley has officially been hired on as my P.I.M.P. (Pinterest Implementator & Marketing Person).
Hint: A great place to do this would be in your cover letter (or in your video resume).
Dear [XYZ],
I've been a customer of yours since [xxxx] and I'm particularly interested in your [XYZ] way of doing business. I think we'd make a perfect fit because [X, Y, & Z], and I'd love to help you reach your goal of [XYZXYZ].
Sincerely,
Person You're Gonna Hire
There you have it: 4 tips to stand out within the job application process.
Oh, wait… weren't there supposed to be five of these? The fifth one is… you tell me! :-P
# # #
[Image by Magicamentela]
Free Unlost Gift Pack
Get our mini-kit for finding work you love, the toolbox for dealing with crappiness and more - plus weekly awesomeness in your inbox:
related

posts

« One Weirdo Way to Lighten The F Up WARNING: 1 in 3 Professionals Suffers From This Serious Career Related Condition! »