Promise me this…
Promise me that as the world knocks you down and you start to grow up that you will never give up on the ideals that you initially started out with.
The belief that you could change the world, that love exists in all the amazing blow your mind ways you always thought it did, that a career can inspire and help nourish you.
Let people label your beliefs as naiveté, let them tell you that it's absurd to hold on to such such a big glorious dream, and then remind yourself that it's actually called determination, strength, and courage.
Remember to work hard and stay humble. Don't lose sight of the fact that putting effort towards a future you believe in will always pay off.
Live boldly and appreciate everything that this sentiment entails. Take risks. Embrace failure as an opportunity for growth. Feel fear. And when you impress yourself, over and over again, relish in this unparalleled feeling.
Go with your gut. Like you did when you were little, let your emotions guide you. When risks seem necessary, don't be afraid to push yourself. When it is comfort and solitude that fuel you, let yourself relax, and be brave enough to reach out to others for support.
Create a future that inspires you now. Live in the present. Make today the day that matters most, and I promise you that your future will be bright. Evaluate your desires, find the ones that lie at the top of your list, and go chase them.
Impress yourself first and foremost. You, my friend, are the only one who has to live with your decisions, you are the only one who has to accept them, and you are the only one who can create your own happiness. Let everyone else's voices fade a little and listen to your own barometer.
Remember that happiness breeds happiness. This world spins thanks to kindness, understanding, compassion, and love. Remind yourself of this and one of the world's biggest truths, that you can only access these gifts when you yourself are fulfilled.
And when you feel a bit lost, a bit stuck, remember that daring to dream bigger than you thought possible will inevitably include setbacks. It is all part of the process: feel the pain and let it be your inspiration. Promise me that you won't let it hold you back. And then when it's going well — great in fact, better than you could have ever imagined — recognize it, be grateful for all you have accomplished, and be proud of yourself for choosing to live boldly.
From your biggest fan,
Tyler Protano-Goodwin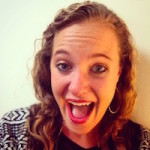 Tyler Protano-Goodwin has always let curiosity guide her. Having lived on four continents thus far she has developed an affinity for pad thai, daily massages, cumbia, and a pocket sized notebook. She makes sure to write down all of her adventures. Want to see what she is up to? Follow her blog 
The Thai Chronicles
 or her 
Facebook page
!
[Image by Aiky RATSIMANOHATRA]
related

posts

« The Single Thing Holding You Back In Life (That Nobody Else Will Tell You) Why I'm Pressing "Pause" on The Unlost »