Are you 25, but often feel as if you're going on 40?
Are you restless and anxious, constantly thinking "There must be more to life?"
Does it sometimes feel like you're living out a bad version of Bridesmaids?
If so, chances are good that you may be experiencing a quarterlife crisis.
Do not panic.
Do not fret.
Do not immediately pour a glass of wine (well, I guess you can do that — but only if you pour me one, too).
In honor of my friend Paul Angone's ridiculously awesome new book, 101 Secrets for Your Twenties, here are the top nine signs you may be experiencing a quarter life crisis — along with the best of Paul's no BS secrets to help you move toward the cure.
1. You've suffered from OCD
You know, Obsessive Comparison Disorder.
Symptoms include compulsive Facebook status checking — "Well, would you look at that! More perfect boyfriend/wedding/vacation/baby/house pics!" — and wondering why you don't have these things, too (or if you do, why yours don't quite seem to measure up).
Obsessive comparison disorder is THE leading cause of death of the most awesome motherfreaking person who ever lived: you. (The real you, that is.)
The cure?
Realize that "supposed to" is a lie.
"Supposed to" is a lie. A fairy tale. It is the stealer of peace and productivity. It is the leading cause of Obsessive Comparison Disorder with everyone who "has it better."
No one has it all figured out. No one holds their first child with all the answers. Not many walk right into their passion from the graduation stage. Not everyone gets married like they're "supposed to" or climbs the corporate ladder full of broken rungs.
If we keep trying to live other people's lives, who is going to live ours?
– Paul Angone
Once I realized that I was benchmarking myself against culturally defined "supposed tos" rather than on what was really true for me, I was suddenly set free.
It dawned on me that I didn't actually care about owning the big home or the shiny car or the new boat. I didn't actually care about being married with kids by the time I was 30 or about the predictable 9-5 job or about living the picture perfect life.
I didn't care to live the same lives most people were living, so I made it a priority to discover exactly what I did care about and to build my life around that.
I no longer needed to feel like I was losing at someone else's game. Instead, I could work hard to win at my own game.
Your vision will become clear only when you look into your heart. Who looks outside, dreams. Who looks inside, awakens.
– Carl Jung
Step outside of the game. Look within your heart and live true to that.
Comparison is a loser's game.
2. You've ever thought your college degree would actually get you somewhere…
If you've had the pleasure of graduating from college and then swiftly facing the harsh reality of working at, say, Starbucks, a call center (that was Paul…) or Hollister (that was me…), then I think you'll appreciate this one.
I still LOL every time I hear this quote from Charlie Hoehn:
You need to understand that college degrees aren't given to unique snowflake children.
The thing is, your college degree does have value, but it's not going to differentiate you from all the other millions of people who have a degree, too.
"I learned that your college diploma is not your passport in. Your diploma is merely your Pinky Toe in the Door," writes Paul.
TRUTH.
Run and tell that, homeboy.
3. You feel like you're failing (miserably) at your plans
You know, the plans you had for an amazing rockstar career or to be married to the man of your dreams or to have [this] or [that] or [fill-in-the-blank].
Whatever your plans were, you feel like you're wayyy off track.
And yet in the painful process of failing miserably at the "supposed tos," you've somehow found your way to exactly where you need to be. It turns out you haven't failed at all — in fact, you've won the jackpot. You've found your self (and a destination that's so much greater) in the process.
At least, that's how it's been happening for me.
Listen close: You probably have no idea right now, but at this moment you're smack dab in the middle of becoming your self — your fantastic, confident, amaze-balls self, if only you'll let this experience open and not close you to the world.
Trust me.
Which is a perfect transition into my next point…
4. You're sick of the never-ending struggle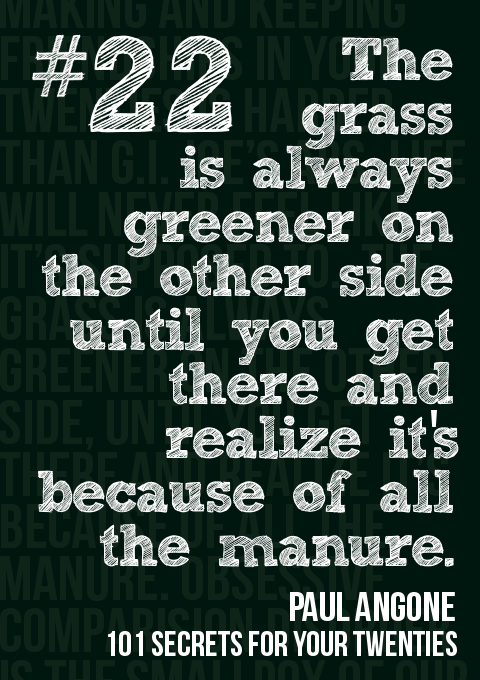 I mean, like, when's it all going to fall into place? When's life going to finally stop sucking, and when's it all going to make sense? WHEN WILL YOU FINALLY HAVE ALL THE MAGICAL FREAKING ANSWERS AND BE NORMAL JUST LIKE EVERYBODY ELSE?!
Until you finally (finally!) get past the struggle and you realize that the struggle was a necessary step in the process.
Yes; I said necessary!
It wasn't just some bump in the road you had to overcome in order to "get there;" it was in fact an essential building block, a foundation of your future success without which you never would have gotten to where you really needed to be.
Holy sh!t — it was all a part of the mother freaking path.
All of it.
As Paul would say, "You can't have a good story without a good struggle."
And started having to do ALL THE THINGS! You know, like taxes and insurance and marriage and laundry… and you're up to your earballs in bills :-|.
While we're at it, you also wonder when in the heck you stopped doing all the things… like drinking yourself stupid every single weekend night… showing up at work deathly hungover (how in the heck did you ever do that?!)… waking up on your best friend's kitchen floor covered with vodka and mud… (Um… I mean, JK. That one never happened, Mom!)
You still have no idea when having one glass of wine and then going to bed at 9:30 become normal, but hey, sometime in between playing beer pong and paying the mortgage, it happened.
6. You're stuck in a "comfortable job"
"The most dangerous job you can have in your twenties is a comfortable one," says Paul.
If you're stuck in a job that demands nothing… if your work doesn't stretch or challenge you… if the words you dread most in life are, "You're getting a promotion," then I have some advice for you:
Escape! Escape now, before it's too late!
A job that's comfortable and complacent will suck the life right out of you.
7. You have no idea where to turn
You have no idea where to turn or which way to go or how to breathe, so for awhile you turn compulsively to the wrong things: The wrong relationships, the wrong shiny exteriors, the wrong clothes and shoes and things. The television. The booze.
The distractions, big and small.
Eventually you realize this is only making things worse.
And so you open to faith — you open to life.
You learn to reach out for help — from your friends, your family, from a therapist, from God, from Life. You learn to open up to others and to break down barriers.
You learn to pray. You learn to meditate. Hell, maybe you learn to just sit silently at the edge of the dock, staring up at the endless blanket of stars as you rock back and forth with the rhythm of the waves. This, too, is prayer.
It doesn't matter what you call it; it only matters that you've found it. You've found peace. You've found home.
And in the midst of not knowing where to turn — and if you're brave enough to open yourself to something bigger — you'll come to know that it is here where the safety and security and trust lies, regardless of circumstance.
8. You feel like you're living out a bad version of Bridesmaids
Wherein all your friends are getting married and having kids and "What are your wedding colors" and "How many weeks along are you?", and you're happy for them (you really are!), but you start to feel sort of left out, like maybe you're failing at life because you're almost thirty and not only are you not married, but you're so not even ready yet to take responsibility for another human life.
But then you realize once again that THERE ARE NO SHOULDS, there is no timeline, and HOLY CRAP, you're actually really happy in this place of freedom right now. You're learning more about yourself and the world and your values and your standards every day, and you're content — truly content — to wait for the one who embodies those values.
"Stop looking for the right person and start becoming the right person," says Paul.
"Be with someone who will make you happy," says this thing I posted on my Facebook timeline.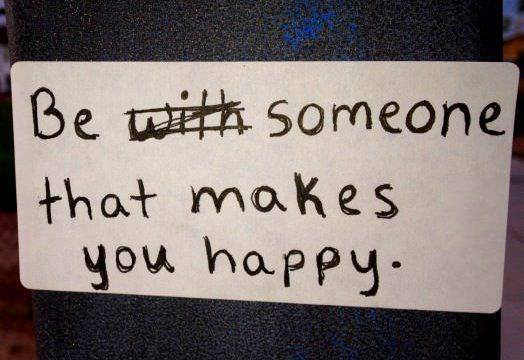 And so you do, and you become this totally happy, radiant, self-assured person in the process  — this girl who totally knows exactly what she wants and exactly what she has to give.
And it makes you want to say "Hell. Mother freaking. Yes." for the rest of your motherloving life.
♥
9. You've never felt more lost
For years, I used to have a picture of a sailing ship tacked up on my bedroom wall. "You cannot discover new oceans unless you have the courage to lose sight of the shore," read the quote beneath it. Man, I love that quote.
Listen up: Sometimes, being lost is the best gift you could ever ask for.
Being lost doesn't mean that you're far off track or taking the wrong road. To the contrary, being lost means you have the courage to get your ass out into the wilderness and explore so you can make sure that you're taking the right path in the first place!
It means having the courage to ask where you really want to go instead of merely following the default "supposed to" path that's been laid out before you.
Your true self exists in unchartered territory, which means there is no path — the path is made by walking! Losing sight of the shore is a rite of passage for anyone who's willing to discover newer, brighter, truer horizons.
Let go.
Get lost on purpose, with purpose.
Getting lost is the only true way to be found.
Want more secrets for kicking ass and taking names in your twenties? Check out Paul's new book,
101 Secrets for Your Twenties
. Highly recommended — it's chock full of truth and leaves out the fluff. A new staple on my bookshelf for my twenties and beyond :).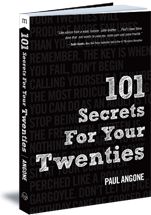 [Image by  hillary the mammal] 
related

posts

« Choosing Meaning over Money: On Mothers, Dying, and Living Your Life on Fire On Taking Leaps, Facing Fears, and Being Crazy Enough to Change the World »