Awhile back, I decided to track how I spent my time.  I probably did this because I'm a nerd and I like to analyze data.  Also, I'm an accountant.  I guess the two kind of go together.
Anyhow… prior to this experiment, I thought that I had a good idea of how I spent my time.  I guess I was wrong, though, because seeing the results on paper made me want to throw up in my mouth a little.  To tell you the truth, I was pretty shocked.  Here's how I realized I was wasting more than 93% of my free hours on stuff that wasn't even important to me.  (And don't laugh at me, because if you're like most people, then you're doing it, too.)
HOW I MADE THE SHOCKING DISCOVERY
So here's what I did: for the entire week, I carried a little notebook in my purse and wrote down my daily activities.  (I'm sure that there are more efficient ways to track my time than carrying a notebook around, but whatever.  For seven days, this notebook was my BFF.)  Then, at the end of the week, I entered the data into an Excel template, made myself a PB&J, and sat down in front of my laptop to analyze the results.  Here's what they looked like (sorted from most time-consuming to least time-consuming):
Exhibit A:  Stuff Therese did during the week ending 11/6/10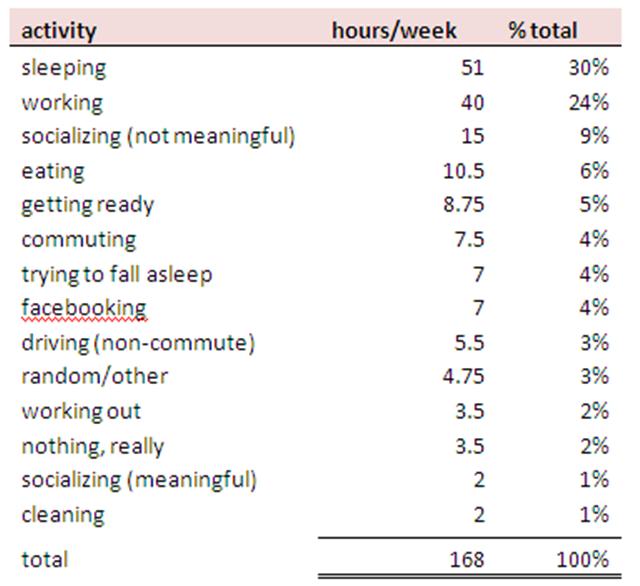 At this point you're probably wondering what this proves (besides the fact that my life is pretty boring).  Well… first of all, do I really spend 4% of my life on Facebook?  BARF.  This calculates out to about 350 hours per year— which calculates out to nearly NINE 40-hour workweeks per year.  Would YOU spend nine workweeks a year looking through peoples' status updates?
It was at this point that the chunks started making their way up my esophagus.  But to my horror, it got even worse than this… much, much worse.
WHY THINGS GOT MUCH, MUCH WORSE
You see, a few weeks earlier, I had done some self examination and had determined that there are just a small handful of things that are really and truly important to me.  And by really and truly important, I mean that these are the things that pass the "Really Old Person Test."
Huh?
You know, the "Really Old Person Test."  That is, if I were a really old person looking back on my life, what things will have made it truly worthwhile? What's the stuff that would have made the difference between living a materialistic life and a meaningful one; an awesome life and a pathetic one; a mediocre life and a GREAT one?
I wondered, how much of my time was I actually spending on those really important things?
To analyze this, I set about categorizing each of my daily activities into one of three buckets:  important (i.e., passing the "Really Old Person Test"), unimportant (i.e., not passing the "Really Old Person Test"), or necessary (i.e., eating, sleeping, and the like– these activities may be important, but you don't really have a choice).
After applying the "importance" categories, my list looked like this:
Exhibit B:  Stuff Therese did during the week ending 11/6/10 (with importance categories assigned)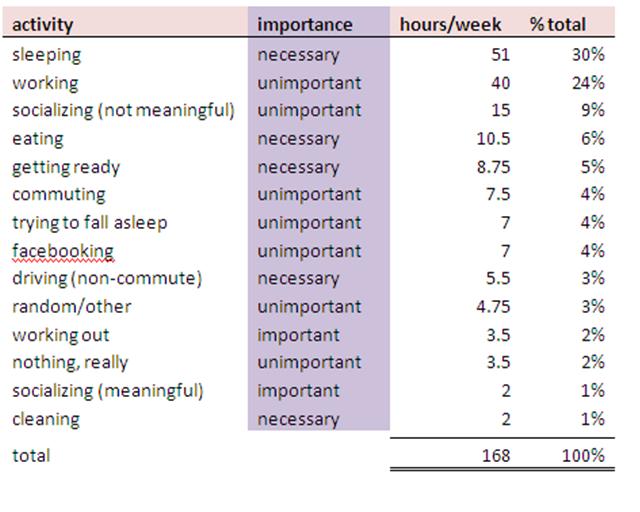 Note:  Calling things "necessary" necessarily involves some judgment.  I know you are thinking something like, "But Therese, you don't have to spend 8.75 hours a week 'getting ready,' so it's not necessary.  Instead, you should've called it unimportant."  And you'd be right– it's not necessary.   After all, if I really wanted to, I could take five minute showers, wear no makeup, and leave my hair wet and frizzy every day– and I might be able to reduce my "getting ready" time to one hour per week!!
Also, it's not necessary that I work for eight hours a day. If I really wanted to, I could quit my job, go live in my parent's guest bedroom, and eat Top Ramen all the time (the chicken flavor's super good!).
But the point here isn't to get super analytical or to spark arguments about which activities are necessary.   The point is to get a general idea of how my actual activities align (or don't align) with my core values.  Don't get too bogged down with the details.  If you decide to do this activity for yourself, you can use your own judgment.
(As a side note, I did decide to categorize "working" as unimportant rather than necessary, mainly because in the grand scheme of things I don't feel like I'm doing anything too important at work.  I hoped to replace this time with work that's more fulfilling to me, so I categorized it as unimportant.)
Here's when the nausea began to set in once again.  Why?  Well, because after eliminating the "necessary" activities, my data ended up looking like this:
Exhibit C:  "Free time" spent on important vs. unimportant activities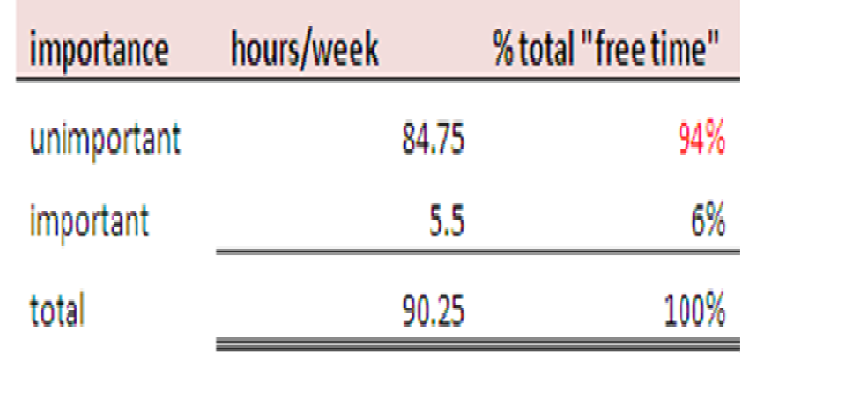 Or, for maximum effect, I present to you Exhibit D: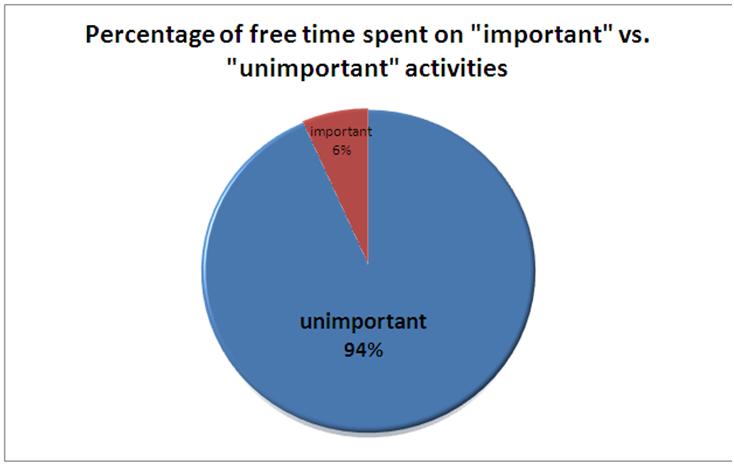 Awesome.  I apparently spend 94% of my free time (i.e., hours not occupied by "necessary" activities) on a bunch of useless crap.  And I was wondering why my life sucked!   During the past week, I had spent a measly 5.5 hours (or less than one hour per day) on things that were truly important to me— things that I had determined to be critical if I wanted to live a truly great life.  Look up at my list again.  "Meaningful social activities" are LAST on the list—I spent less time on these than on ANYTHING else (Well, actually, they're tied with cleaning.  Yes, CLEANING).  Was spending meaningful time with people starting to become a CHORE to me?  Had it really become worse than scrubbing that ring that always forms inside my toilet bowl??
I knew that I was a better person (and a smarter person) than this.  So why wasn't I showing it?  Why was I spending more time perusing useless gossip on Facebook than I was pursuing the callings of my soul?  (Ok, that was a little corny.  But they are the callings of my soul. Really.)
"Therese," I can hear you saying, "that's great and all, but I wouldn't get results like that."
Really?  How can you be so sure?
WHY THIS (ALMOST SURELY) APPLIES TO YOU
Unless you're way more awesome than I am, this probably applies to you, too.  Go ahead and answer the following questions:
1. How much time per day do you spend watching TV?  (If you don't watch a ton of TV— I don't— then maybe there is some other silly thing that you spend a lot of time on, like surfing the internet or playing beer pong.  You get the idea.)
2. How much time per day you spend learning new skills?  Taking care of your health?  Showing the people close to you that you truly care?  Truly being with someone?  Doing anything that speaks to your soul and to your dreams?
So?  Do your hours spent watching TV (or doing some other silly thing) exceed your hours spent on the important?
Enough said.
Here are another couple of questions:
1. How much time do you spend at work each day?
2. Does your work feel fulfilling to you? Do you feel alive, or energized, or excited? Do you feel like you're doing something truly important?
Sadly, most people will answer "no" to this question.  This means that, even without the TV watching, you're spending a ginormous chunk of your waking life on the unimportant.   And by ginormous, I mean HUGE.  In fact, most people will spend more of their life working than they will on any other single activity (except sleeping).
Did you catch that?
Here it is again:  If you're like most people, you'll probably spend more of your life at work than you will with your family, with your friends, or on any other single activity (besides sleeping). I don't know about you, but I'm thinking that my life is too valuable to be spending a third of it (34%, in my case) working on the unimportant (by the way, there are lots of ways to start doing important work that fulfills you— and only some of them involve quitting your current job.  I'll be writing more about this in upcoming articles, so stay tuned).
If you aced the tests above, then I commend you for your awesomeness.  You may now click the "x" on the right-hand corner of your browser (or the left-hand corner for all you Mac users).
But if you're like most people who failed miserably at these tests, then you'll want to sign up for my free mailing list below.  You'll get future articles sent straight to your inbox each Monday morning, so you won't have to worry about missing out on anything (and it's totally non-spammy).  Here's some of the stuff I'll cover in upcoming articles:
-  How to stop getting your time sucked up by things that SEEM important, but really aren't
-   How I started sucking less at life and doing more things that matter (and how you can, too)
-  Why Charlie Sheen is so *&^%@ crazy (just kidding; I have no idea about this)
If you want to be happy when you're a really old person, then sign up in the box  below:
[Main image Flickr credit: Robert S. Donovan]
Free Unlost Gift Pack
Get our mini-kit for finding work you love, the toolbox for dealing with crappiness and more - plus weekly awesomeness in your inbox:
related

posts

« Why Your College Degree Doesn't Mean Sh** SCIENCE CONFIRMS: ALL YOU NEED IS LOVE »